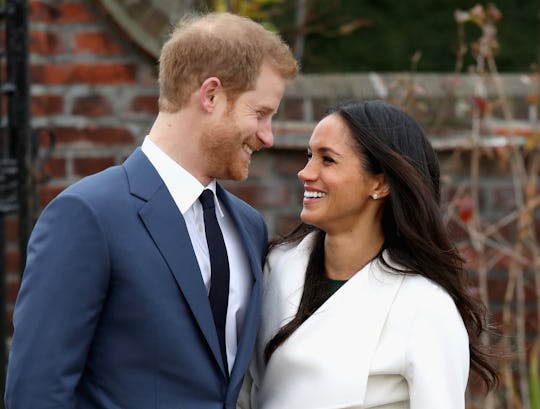 Chris Jackson/Getty Images Entertainment/Getty Images
This Is Where Meghan Markle & Prince Harry Will Live Happily Ever After
With a royal wedding just months away, people around the world are dying to know where Meghan Markle and Prince Harry will live out their happily ever after once they tie knot this upcoming May. Where will they hang up their royal hats at the end of the day? As the couple engages in what can only be described as a fairytale lifestyle, one might wonder about the lavish digs the two may end up calling home very soon.
Markle and Prince Harry actually won't be living in a huge mansion or castle in the sky. They will, however, reside on the property of Kensington Palace, in London, just like Prince Harry's brother Prince William and his family, according to Fortune. The publication also reported that their cottage is about 1,300 square feet. The couple's cottage is called Nottingham Cottage and it's where Prince Harry has already been living. The two-bedroom's little nickname is actually "Nott Cott," according to Fortune. So, for those envisioning gold encrusted pillars, marble floors, dozens of crystal chandeliers, and ceilings that are six stories high, you may be disappointed. Nonetheless, it still seems quite idyllic.
The couple will cozy up together in their Nott Cott home, which holds great sentimental value for them, as it's where Prince Harry proposed to Markle, according to Hello! Magazine. In a sit-down with the BBC, the couple's first interview after announcing their engagement, the two revealed that it was just a typical night at home and they were "trying to roast a chicken." Markle described the proposal to the BBC as an amazing surprise and said that it "was so sweet and natural and very romantic. He got on one knee." TIME reported that Prince Harry has lived in Nottingham Cottage since 2013 and that he began dating Markle in 2016.
Here's A Look At Nottingham Cottage
Here's A Tour Of The Whole Estate
Prince Harry's brother Prince William lives in Apartment 1A, according to House Beautiful, close to Prince Harry, but it's hardly the size of an average-sized apartment. While Prince Harry is in a two-bedroom cottage, his brother's family reportedly lives in a four-story home with 22 rooms, according to the magazine. That's quite a difference. Perhaps if Markle and Prince Harry decide to grow their family, they'll also move into a larger royal residence. The Kitchn reported that Markle and Prince Harry's future home is comprised of one master bedroom, a guest bedroom, one bathroom, a kitchen, a small living room, and a small dining room.
Prince William and The Duchess of Cambridge actually lived in Nott Cott when they were first married in 2011, according to The Kitchn. When they moved in, the cottage was reportedly "spruced up", and it was supposedly known that Prince Harry would take over the residence once the couple moved out, according to The Telegraph. Apartment 1A, where Prince William and Kate currently live, is the former home of Princess Margaret until her death in 2002, according to The New York Times.
Kensington Palace underwent a multi-million-dollar refurbishment last year, according to Forbes, and the palace is currently open to the public. According to People, the historic royal palace attracts an estimated 400,000 visitors every year. Included in the massive renovations for the palace were an extended kitchen, more offices, and a large underground basement.
One aspect of Nott Cott that may make it not so cozy is that Realtor.com reported there is no air-conditioning. Could this really be true? Is Nottingham Cottage really without central air? How is Markle supposed to look her royal best if she's dripping sweat in the summer months? Maybe that's why Markle's go-to 'do could be her messy bun look. Or, perhaps, because it's such an old building, there are plenty of portable air conditioning units and fans in the residence to keep everyone comfortable.
Nottingham Cottage has a small yard for Markle's rescue dogs, a beagle named Guy and labrador named Bogart to roam outside, if she ends up bringing them with her across the pond. Realtor.com also reported that Prince Harry hung a hammock in the yard after he moved into the residence. There is also to be a small garden on the property, according to the real estate website.
According to Fortune, aside from Prince William and Prince Harry living in Nottingham Cottage in recent years — and Markle moving in — it has also been home to several others in the past. Those who have previously lived in the residence include Prince Philip's private secretary, Brigadier Sir Miles Hunt-Davis, with his wife Gay, as well as Princess Diana's sister Lady Jane Fellowes and her husband.
Markle was reportedly living in a luxurious home in Toronto, Canada according to Hello! Magazine, prior to her moving across the pond to be with her new fiancé. Perhaps Markle and Prince Harry will give Nott Cott a little sprucing of their own.
Check out Romper's new video series, Romper's Doula Diaries:
Watch full episodes of Romper's Doula Diaries on Facebook Watch.