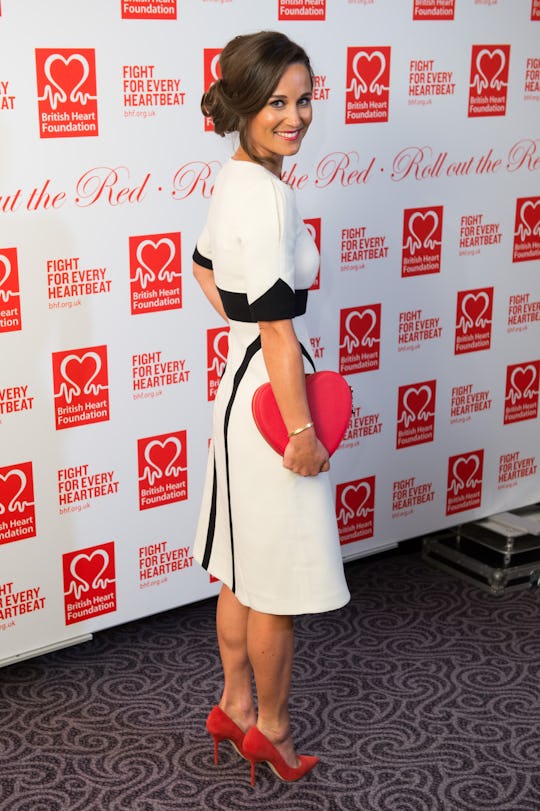 Ian Gavan/Getty Images Entertainment/Getty Images
Pippa Middleton May Also Be Headed To The Royal-Favorite Lindo Wing To Give Birth
In April, Catherine, the Duchess of Cambridge welcomed her third child, Prince Louis, into the world, and now it won't be long until he and his siblings will have a cousin: Pippa Middleton is expected to give birth to her first child very soon. Where will Pippa Middleton give birth? She and her husband, James Matthews, have kept many of the details of their pregnancy under wraps, but royal watchers think she will deliver at the Lindo Wing at St. Mary's Hospital — the same place the duchess has famously welcomed her children. And chances seem good that her stay will actually be even more luxurious than her sister's.
The Lindo Wing steps are now well known for being the site where the world first caught a glimpse of two generations of royal babies. In the '80s, Princess Diana and Prince Charles chose the Lindo Wing for the births of their sons, Prince William and Prince Harry, and after each delivery, photographers waited to snap the first shot of the family when they emerged from the hospital doors. When it came time for Prince William and his wife to welcome their first child, Prince George, in 2013, they continued the tradition, and as a result, the first photo on the Lindo Wing steps has basically become a mandatory royal custom.
Although Middleton hasn't shared much about her birth plan, The Daily Mail reported Monday that she and her husband had recently been spotted at the hospital, which is not far from their home in Chelsea. And even with family connections and proximity aside, it makes a lot of sense. For one, the hospital's private maternity wing is basically a five-star hotel you happen to give birth in, making it a popular choice for wealthy British parents-to-be, like Middleton and Matthews. A basic one-night birth package in a Lindo Wing suite costs around $8,200, according to The Sun, which gives you a private room with an en-suite bathroom stocked with "a good selection of toiletries and cosmetics;" a menu of chef-prepared meals, including wine and champagne; afternoon tea service; satellite TV and wifi; diapers and formula for your baby; and even massage and "postnatal physiotherapy" for new moms.
But you definitely don't have to be famous: 38-year-old London mom Katherine Filkins chose the Lindo Wing for the birth of her second child in 2017, and in April, she told Hello! that it was money well spent. Filkins said that in addition to the fancy amenities, she also received top medical care, with a midwife dedicated solely to her during the delivery. And Matthews might also be happy to know that Filkins' husband also got a bed to sleep in during their stay, along with "a selection of meals to choose from the menu every day."
The upside for Middleton? Her non-royal status likely means she'll actually be able to enjoy the perks of the Lindo Wing, unlike her sister. Following the births of both Princess Charlotte and Prince Louis, the duchess was out in front of cameras within 24 hours of delivering, and then she promptly left to return to her home at Kensington Palace. Of course, recovering at Kensington Palace was also probably quite luxurious, but if you're forking out thousands of dollars for a fancy birthing suite, you may as well stick around to enjoy it. And since it seems highly unlikely that Middleton and Matthews — a fairly private couple — will opt to pose for photographers, it means they'll be in no rush to leave, and that Middleton can enjoy champagne, afternoon tea, and in-room massages instead of having to squeeze into a dress and heels, and get made up by a glam squad.
Then again, the Lindo Wing isn't the only super-posh option in London for moms like Middleton to deliver — there's also The Kensington Wing at Chelsea and Westminster Hospital, where Amal and George Clooney welcomed their twins in June 2017, according to Hello!, and where Liam Payne and Cheryl also welcomed their son, Bear, in March of that year. And though it may not come with the royal seal of approval, it sounds like Middleton has some great options available to her when it comes to delivering in style.