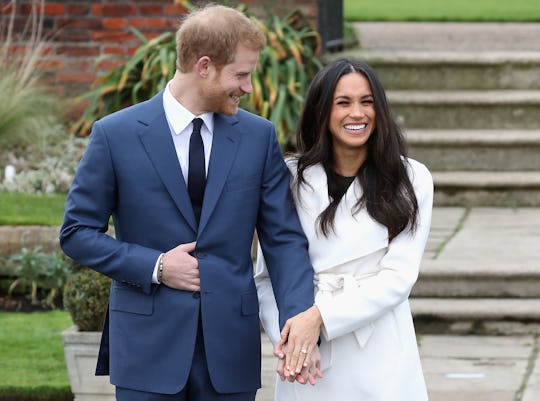 Chris Jackson/Getty Images Entertainment/Getty Images
Here's Where Prince Harry & Meghan Markle Might Get Married
In case you haven't already caught wind of the news, Prince Harry and Meghan Markle announced their engagement on Monday. Talk about a major news headline to jolt you out of your post-Thanksgiving fog, right? And as expected, people have a lot of questions about the impending nuptials. Many people are wondering where Prince Harry and Meghan Markle will get married, for instance, and it's a very legitimate question. The wedding venue is typically a big deal for any engaged couple, especially if you're a royal. So, where will Prince Harry and Markle get hitched? One can only assume the locale will be incredibly fancy.
On Monday morning, the Clarence House, the official residence of The Prince of Wales and The Duchess of Cornwall, released the following statement about the engagement, according to The Telegraph:
His Royal Highness The Prince of Wales is delighted to announce the engagement of Prince Harry to Ms. Meghan Markle. The wedding will take place in Spring 2018. Further details about the wedding day will be announced in due course. His Royal Highness and Ms. Markle became engaged in London earlier this month. Prince Harry has informed Her Majesty The Queen and other close members of his family. Prince Harry has also sought and received the blessing of Ms Markle's parents. The couple will live in Nottingham Cottage at Kensington Palace.
So, did you catch the part about how the details will be revealed in "due course"? This means fans of the couple will have to wait to learn any info about the nuptials. Yep, the momentary secrecy is a bit of a bummer.
Although a wedding venue has yet to be confirmed, here are some possible locations of where it could take place.
Westminster Abbey In London
On Nov. 20, 1947, Queen Elizabeth and Prince Philip got married at Westminster Abbey in London, according to Vogue. Westminster Abbey, a very historical and gorgeous church, opened in 1090 and has hosted 16 royal weddings, according to Westminster Abbey. The church is a huge tourist attraction for people visiting London, and millions of people check it out each year. It also happens to be the place where Kate Middleton and Prince William said "I do" on April 29, 2011, according to The Telegraph.
So, it wouldn't be too surprising if Markle and Prince Harry get married in this ionic venue. It's family tradition, after all. On the other hand, Prince Harry might want to break away from the family norm — he can be a bit of a rebel at times.
St Paul's Cathedral
On July 29, 1981, Princess Diana and Prince Charles got hitched in St. Paul's Cathedral in London, according to CBS News. St. Paul's was built between 1675 and 1710, according to St. Paul's, and it's another major landmark in the city. People tend to visit the location for its "Whispering Gallery," and its beautiful interiors.
I'd say the probability of Prince Harry getting married here is pretty high. Exchanging vows at St. Paul's could be a great tribute to his late mom, and the timing would be appropriate given the fact that 2017 marked the 20th anniversary of Princess Diana's death.
St. Mark's Church In Englefield
On May 20, 2017, Pippa Middleton wed James Matthews at St. Mark's Church in Englefield, England, according to Town & Country. Although Middleton is technically not a royal, she is the sister of one and she's pretty close to Prince Harry. Pippa even extended a wedding invite to Markle, which is a good sign that the trio are all on good terms. So, it's totally possible that Markle and Prince Harry will take a cue from Pippa and get married at St. Mark's.
As for the pros of St. Mark's, it's located on a private estate, according to The Sun, and it has a sweet country feel.
Good Ol' USA
OK, I had to throw this option into the ring. Although highly unlikely, Prince Harry and Markle could exchange vows in America. Markle was born in Los Angeles, California, according to the Daily Mail, and she has a lot of ties in the area. You never know, right?
For now, it looks like fans will have to speculate about the wedding venue until Markle and Prince Harry make a formal announcement. What is certain at the moment, however, is that people are *thrilled* for another royal wedding in 2018, no matter where it will be held.
Check out Romper's new video series, Romper's Doula Diaries:
Watch full episodes of Romper's Doula Diaries on Facebook Watch.