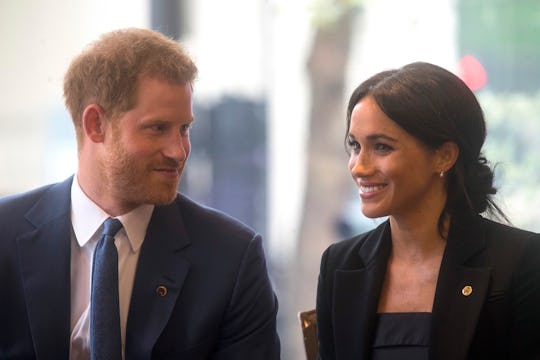 WPA Pool/Getty Images Entertainment/Getty Images
Where Will Prince Harry & Meghan Markle's Baby Fall In The Line Of Succession?
Guys, this is not a drill: Another royal baby is on the way! On Monday, Oct. 15, Prince Harry and Meghan Markle announced they are expecting their first child. Although tabloids have been claiming "proof" of a Harry-Meghan baby on the way since the moment they tied the knot on May 19, this time it's the real deal. As royal fans from across the world rejoice at today's royal baby news, plenty of people are probably wondering: Where will Prince Harry and Meghan Markle's baby fall in the line of succession?
As People reported, Kensington Palace revealed the Duke and Duchess of Sussex's big news on Monday via Twitter. "Their Royal Highnesses The Duke and Duchess of Sussex are very pleased to announce that The Duchess of Sussex is expecting a baby in the Spring of 2019," the tweet read. "Their Royal Highnesses have appreciated all of the support they have received from people around the world since their wedding in May and are delighted to be able to share this happy news with the public." Cue: Royal fans everywhere promptly freaking out from excitement. Now that the baby news has had the chance to sink in a little, fans are likely dying to know the details surrounding the royal couple's impending parenthood.
The truth is, the line to the British royal throne is a long, complicated one — and so is the explanation as to where Prince Harry and Meghan Markle's baby will fall. The short answer is their son or daughter will be seventh in the line of succession, Time reported, which is simple enough; but the reasoning all centers on birth order. After Queen Elizabeth II, the line is as follows, according to The Sun: Her son Prince Charles, Prince William, Prince George, Princess Charlotte, Prince Louis, Prince Harry, and Prince Harry's children. (It's worth noting that if Prince William and Kate Middleton end up having another child, then both Harry and Harry and Meghan's child would be bumped down to seventh and eighth, respectively.) The birth of Harry and Meghan's baby will also bump Queen Elizabeth's second-eldest son, Prince Andrew, and his daughters — Princess Beatrice and Princess Eugenie — down to eighth, ninth, and tenth in line, according to Time.
What's more is the baby won't automatically have a certain title, according to Cosmopolitan, because Prince Harry is the second son of the Prince of Wales — so the whole "prince" and "princess" designation isn't a guarantee. With that said, Queen Elizabeth could very well decide to give them these titles anyway. Because she's the queen and all. Other royal title possibilities could be: Earl of Dumbarton, if Harry and Meghan have a boy first, or Lady (first name) Mountbatten-Windsor, if they have a girl, according to the publication.
Although it's not clear exactly how far along Markle is at this point, a royal insider told Us Weekly the Duchess of Sussex is already a couple of weeks into her second trimester. "She is due on or around May 2nd," the insider said. "Meghan is a couple days just shy of her 15-week mark." If this is accurate, that means Prince Harry and Meghan Markle's baby has a chance of sharing a birthday with Princess Charlotte — who was also born on May 2. (Which would be too cool, right?)
When it comes down to it, being seventh in line to the royal throne doesn't mean a whole lot. (Other than bragging rights, and a life in the spotlight, of course.) Still, Prince Harry and Meghan Markle's children won't ever face the same pressure as Prince William and Kate Middleton's children — as far as the possibility of one day being queen or king is concerned. And if you ask me, having all of the "perks" of being a royal with hardly any of the responsibility seems like a pretty good place to be.