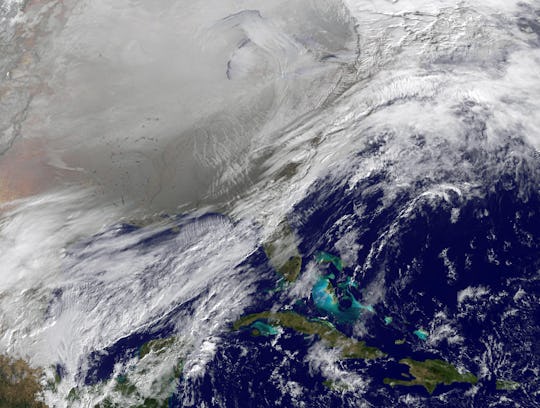 Handout/Getty Images News/Getty Images
Here's Where The Bomb Cyclone Will Hit
Ask anyone about the weather, and they'll you that the United States, right now, is a frozen tundra. People living in Texas, Louisiana, and South Carolina are braving cold temperatures lower than Alaska, while states such as Florida and Georgia are bracing for possible snowfall. And later this week, parts of the country will be pummeled by a powerful storm — dubbed a "bomb cyclone" — that's predicted to have winds whipping at hurricane-force strength. But where will the "bomb cyclone" hit, exactly? Everyone on the East Coast should expect to feel its wrath.
Meteorologists predict the bomb cyclone to stretch the span of the Eastern seaboard, from Florida to Maine, according to The Washington Post. They say sleet, snow, and high-speed winds will most likely batter the region starting on Wednesday, with northeast Florida and southeast Georgia first experiencing a mix of light freezing rain, light sleet, and light snow.
The "bomb cyclone" is also expected to intensify quickly after it passes through Georgia, brutalizing the Mid-Atlantic and eastern New England with heavy snow and powerful winds, The Washington Post reported. Meteorologists predict that the New England area will experience the brunt of the winter weather storm, which will be followed by a bone-chilling polar vortex.
Of course, the phrase "bomb cyclone" makes this impending storm seem terrifying. The truth is, though, it's not out of the norm for winter weather, North Carolina-based meterologist Ed Vallee told Vox recently. "Bomb cyclone" is a real term with a strict definition, Vallee said; it's used to describe a storm with a very extreme drop in atmospheric pressure in a short amount of time. It's a phenomenon known as bombogenesis, in which central pressure falls rapidly to at least 24 millibars in the span of 24 hours, according to the Weather Channel. In other words: It's going to be an intense freaking storm.
But it's not abnormal. There are only two differences between the "bomb cyclone" and a typical Nor'easter, Vallee said: First, the "bomb cyclone" has a breadth of impact wider than normal, and, second, it's the first winter storm of the new year. Some parts of the Atlantic Ocean closer to the storm's center may experience hurricane-force winds, but that's hardly remarkable.
That's why calling the weather event a "winter hurricane" is misleading, he added. He explained to Vox,
They're two totally different systems. Hurricanes feed off warm water and are totally different dynamically compared to a winter storm. Storms that are of hurricane strength, or have hurricane-strength winds, happen all the time. They happen every winter. This isn't a crazy anomaly in any way, shape, or form.
That doesn't mean this winter season hasn't been horrifying so far. North America is under a wicked cold spell that's brought record low temperatures, according to Mashable. The last time the United States experienced a bitter cold winter was five years ago, during the 2013-2014 season. That was one of the coldest winters on record for parts of the Midwest, according to the Weather Channel.
This historic cold is claiming lives. This week, at least 11 people died from cold-related issues in Wisconsin, Texas, North Dakota, and Missouri, according to CNN. And the death toll is only expected to increase as the temperatures continue to drop to below and near-freezing status. Officials have urged people to remain in their homes instead of trying to brave the single-digit weather, CNN reported.
Whether or not the "bomb cyclone" is as disastrous as made out to be doesn't matter when you consider how many people will go without shelter or heat during the blistering cold days ahead. If you want to help, here are some ways you can keep people warm during this winter.
Check out Romper's new video series, Romper's Doula Diaries:
Watch full episodes of Romper's Doula Diaries on Facebook Watch.