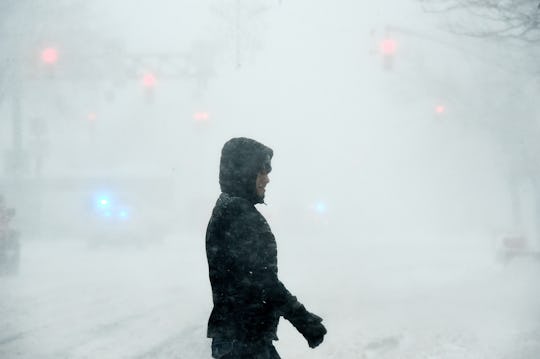 Nicholas Hunt/Getty Images News/Getty Images
Winter Storm Hunter Is Threatening Much Of The U.S.— Here's What You Need To Know
It's that time of year again, and no I'm not talking about awards season. No, it's blizzard season! So, with yet another storm on the horizon, where will Winter Storm Hunter hit? The Midwest is definitely in for a flurry of chills, wind, and oh yeah, literal flurries. Unfortunately, this storm is set to hit just a week after Winter Storm Grayson barreled through the East Coast, bringing with it that infamous bomb cyclone. But this time, Winter Storm Hunter is expected be more widespread and could have an even bigger impact than Grayson did.
This latest storm, according to The Weather Channel, will start in the west and work its way east. "Winter Storm Hunter will bring a mess of heavy snow, freezing rain and sleet from the West to the Plains, Midwest and Northeast through Saturday," the website reported. It's expected to all start on Wednesday night as the storm gains strength and cities across the Midwest and Northeast prepare for the worst. However, Thursday appears to be the day the storm will hit the hardest, as it will reportedly bring with it the possibility of blizzard conditions, especially in the Dakotas, Nebraska, western Iowa, and Minnesota, as The Weather Channel advised.
"The National Weather Service has issued winter storm watches, warnings, and winter weather advisories in a number of locations in the upper Mississippi Valley, northern and central Plains, High Plains, and Rockies," Fortune reported on Wednesday.
If you're located in the storm's path — ranging anywhere from "Washington State to the Dakotas, across the Midwest into Ohio, as far south as Mississippi and up into New York and New England," as People reported — you may want to prepare for whatever this storm may bring with it, which could include some unconventional winter storm side effects. Yeah, it's not just snow and sleet that Winter Storm Hunter is expected to bring; according to AccuWeather:
The combination of surging temperatures, drenching rain and melting snow will accelerate a thaw that will already be underway from the Appalachians to the Atlantic coast. At the very least, travelers and property owners should be prepared for poor drainage area flooding beginning on Friday.
It isn't just ice to watch out for on the roads; there's a strong possibility of flooding and other dangers that could have a serious impact on residents in the areas hit by the storm.
But, again, this storm is so large, that it has the potential to change its trajectory and even its temperament. As The Weather Channel reported, "Prior to the snow, ice accumulations may be sufficient to slicken most untreated roads, particularly bridges and overpasses." The Weather Channel also noted, "In some areas, enough ice may accumulate to lead to some downed tree limbs and weaker trees and trigger some power outages."
Clearly, Winter Storm Hunter is capable of creating a slew of safety hazards, and residents should do whatever they can to be completely prepared. And according to the Department of Homeland Security, there are a few ways to prepare for a winter storm. In addition to formulating an emergency plan and making sure you and your family stay in touch, the DHS also recommends the following:
Ensure that your home or apartment is well-insulated
Buy a carbon monoxide detector if you don't have one, especially if you're planning to use a space heater
Have a fire extinguisher and make sure everyone in your home knows how to work it
If you have a wood-burning fireplace, try to have plenty of firewood on hand
Make sure you have plenty of extra blankets on hand in case the power goes out or you run out of fire wood
With so many are in the path of Winter Storm Hunter this week, it's best to be prepared. Even if you aren't in the direct line of its impact, the storm could change on a dime. Having a plan at the very least could make a huge difference.
Check out Romper's new video series, Romper's Doula Diaries:
Watch full episodes of Romper's Doula Diaries on Facebook Watch.