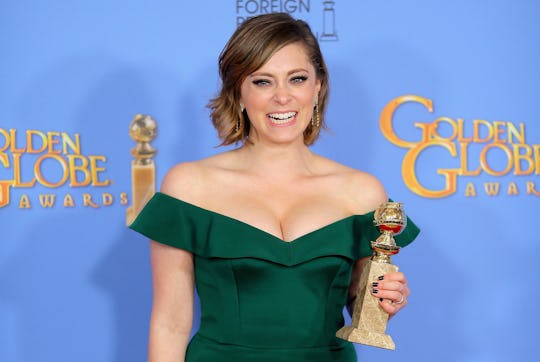 Where You Can Watch Rachel Bloom In 'Crazy Ex-Girlfriend' If You've Missed It So Far
Now that actress and comedian Rachel Bloom snagged the award for Best Actress in a Drama at the Golden Globes on Sunday night, the same question is on the minds of many: Where can you watch Rachel Bloom in Crazy Ex-Girlfriend? The series, a musical-comedy, can be seen Monday nights on the CW. The series is about a single lawyer who follows her ex-boyfriend to New York City and it's still in its first season.
Bloom doesn't just act in the show, either. She's also its creator and writer, and she performs many of the musical acts that are featured in each episode. A graduate of New York University's drama school, Bloom used to perform as a comedian for the acclaimed improv and sketch comedy group Upright Citizens Brigade. Talk about a renaissance woman, right?
Bloom fought to get Crazy Ex-Girlfriend produced, too. "We almost didn't have a show," Bloom said during her Golden Globes acceptance speech, according to Entertainment Weekly. "We made a pilot for another network and they rejected it … We got six rejections in one day and we felt like crap, but we knew it was good." Talk about tenacity, am I right? You go, girl!
Bloom's win is a great thing for diversity on television, too. Bloom's love interest in the series, Josh, is Filipino-American, and the series' representation of Filipino culture was hailed by Vulture as crazy accurate, and funny, too. Music, laughs, and multiculturalism — where can they go wrong? There's a lot to like about Crazy Ex-Girlfriend, and this win will surely help the series through its freshman season.
Here's betting this under-the-radar show will be winning over a lot of new fans after Bloom's Globes win.
Image: Mark Davis/Getty Images Entertainment