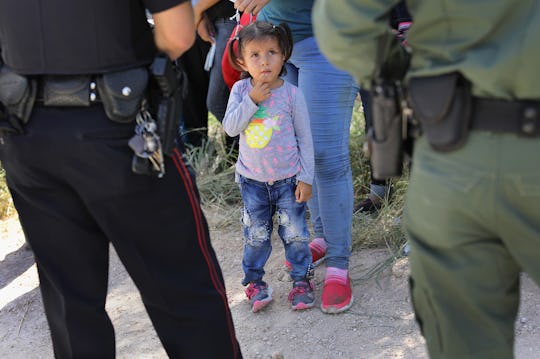 Photo by John Moore/Getty Images
It Doesn't Have to Be Like This
Last week, a federal judge in San Diego ruled that the families separated under the Trump administration's "zero tolerance" immigration policy must be reunited.
This is a step in the right direction.
In the past few weeks, we've seen an amazing and sustained outcry from the public, including Saturday's protests across the nation. Americans continue see through the administration's falsehoods and window dressing to the heart of the matter: families being compared to infestations, their traumatized little ones caged like animals and deprived of the one source of stability and comfort children need — their parents.
Their voice are why the administration was forced to backpedal and issue its June 20 executive order.
But make no mistake: although last week's federal ruling was urgently needed, that executive order still represents a very real threat to the health of these children and their families.
Why is it just as bad? The family detention it will impose will make absolutely no difference to the root cause of a so-called immigration "crisis."
This is not a matter of people illegally crossing the border. This is a refugee crisis, sparked by gang violence that, for most of us, is incomprehensible in its scope and cruelty. The gangs have made the brutal, and correct, calculus that these precious children are their families' greatest point of vulnerability. Whether Guatemalan, Honduran, El Salvadoran or, yes, American, any parent would do whatever they can to keep their kids safe — and gangs know this all too well. As a result, they threaten, kidnap, beat, rape, forcibly recruit, and even murder children in an effort to extort or punish their parents, and increase their own power base.
Another mother told us, 'I'd rather see my daughter die on the way to the United States than die on my doorstep.'
One client of ours was walking to the market in Guatemala when a car filled with gang members pulled up, forced her into the car, and drugged her. They kept her for several days, repeatedly raping her, while her parents scraped together a ransom payment. After she was returned to her family, she was too terrified to leave the house — and then the gang started to pressure the family again for more money. She fled to the U.S. and we eventually won asylum for her. Examples like these are not the horrific exception to asylum applications — they're the rule.
Another mother told us, "I'd rather see my daughter die on the way to the United States than die on my doorstep." At least in that scenario, she reasoned, she would know she did everything possible to try to make her daughter safe, to give her the best chance at life.
I provide this context to say that these people, and their children, are under existential threat in their home countries. If we're truly interested in resolving the crisis, it starts with helping to stabilize these countries. That's in their best interest and, what's more, it's in our own long term interest as well. It's not a quick fix nor is it one that can be snappily reduced to a four-letter slogan on a red baseball cap. But it the most vital and effective thing we can do to slow the numbers of people coming to the border to pursue their legal right to asylum.
In the meantime, we must focus on what works with the people who are here now — and it's not family detention.
A 2016 report by the Immigration and Customs Enforcement (ICE) agency itself said: "...detention is generally neither appropriate nor necessary for families and that the detention or separation of families for the purposes of immigration enforcement or management are never in the best interest of children." It went on to say that such detention should be "reserved for rare cases." This is the admission of the very agency responsible for family separations and detention.
We know that family detention harms children and their parents. The American Academy of Pediatrics noted in 2017 that "parents…described regressive behavioral changes in their children, including decreased eating, sleep disturbances, clinginess, withdrawal, self-injurious behavior, and aggression. Parents exhibited depression, anxiety, loss of locus of control, and a sense of powerlessness and hopelessness." Such effects are partly why the court interpreted the Flores class action settlement agreement to mean that children should not be held in family detention for more than 20 days.
Moreover, family detention is ineffective.
We have solutions that are cheaper and safer for all involved — for the families seeking legal asylum, their kids, and the United States. They're called alternatives for detention.
Alternative programs, in addition to being kinder, more humane, and more effective, are also massively cheaper to run.
In 2016, the Family Case Management Program was piloted with 700 families in five cities (including New York and Los Angeles). Through the program, families asking for asylum were released together in the community with caseworkers that helped them with education, quality legal services, housing, and understanding immigration-case related orders and communication. As a result, 99 percent showed up for their hearings and appointments. The separate "Full Service" program, administered by a private contractor, had a 99.6 percent appearance rate at immigration court hearings — and a nearly 80 percent compliance rate with removal orders.
These alternative programs, in addition to being kinder, more humane, and more effective, are also massively cheaper to run. The Family Case Management Program above was just $36 a day. Another program, run by the Lutheran Immigration and Refugee Services group, cost $50 a day. In contrast, recent reports put costs for a bed in a tent city at $775 a person per night and the cost for a bed at a family detention center is about $318 (note: you can stay at a five-star luxury hotel in Miami for an average of $332 a night).
Cheaper for taxpayers. More effective. Better for families. These programs are wins by any measure. And yet last year, the Trump administration shuttered the successful Family Case Management Program for reasons unknown. In the meantime, it's asked the Pentagon to shelter up to 20,000 migrant children on military bases. And the president himself said migrants should be denied judges and court cases, a violation of the due process enshrined in the Constitution itself.
Resolving this refugee crisis will be the matter of months and years — that's the reality, plain and simple. Let's continue to press those in charge to pursue the proven, cheaper, more effective alternatives to family detention — and hold on to our humanity in the process.
Wendy Young is the president of Kids In Need of Defense. To support the work Kids In Need of Defense performs, including legal representation, social support, and advocacy, visit the KIND website.