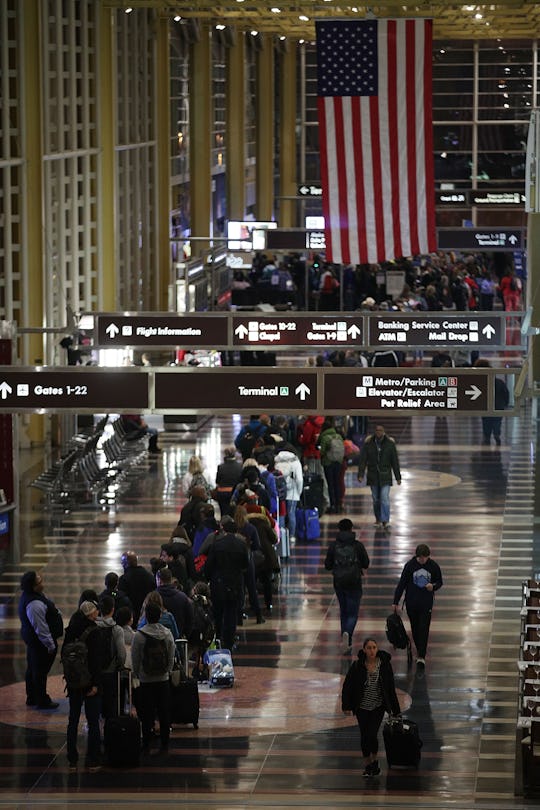 Alex Wong/Getty Images News/Getty Images
Which Airports Are Experiencing Holiday Delays? Thanksgiving Travel Is Never Easy
Thanksgiving travel is never easy. Not only do people usually have to rearrange their schedules to go spend time with their family (which is usually great and terrible, all at the same time), but everyone else in the whole entire country seems to be doing the same thing. And since it's a mid-week holiday, no one can get off work early enough to "beat the rush," resulting in crowded transit hubs. If you're reading this, you probably already know what airports are experiencing delays the night before Thanksgiving, but misery loves company, right? I'm here for you. And even if it seems like it will last forever and ever, it's important to remember that this, too, shall pass.
Luckily, there was no crazy weather or anything that took out all of the important airports, and around 7 p.m. ET, the Federal Aviation Administration was reporting pretty minimal delays. In the Northeast, which usually experiences crazy congestion around the holidays, airports like JFK in New York City and Reagan National in D.C. were experiencing arrival and departure delays of around 15 minutes. Same for Raleigh-Durham in North Carolina, Hatsfield-Jackson in Atlanta, and Miami International in Miami. But there were some other problems across the country.
Chicago's O'Hare Airport, New Jersey's Newark Airport, and Dallas-Fort Worth were experiencing delays of around 45 minutes — but mainly for planes coming into those airports with gate holds and taxi delays. Basically the worst kind of delays. Waiting around in airport is terrible but at least there's a bar and a newsstand. Taxiing around the runway should be on the enhanced interrogation technique list. (Obviously they are two very, very different things, but sometimes it does feel like torture, c'mon.)
Just be thankful that there aren't any major snowstorms keeping you or your loved ones grounded. There was supposed to be a pretty big storm in the central and northwestern states, but as of Wednesday evening, everything seemed pretty clear. If it makes you feel any better, the airports experiencing major delays are exactly the same ones that Air Help, a company that helps travelers navigate the airline industry, predicted would be rough. The worst airport, according to them? O'Hare, followed by Newark and then San Francisco, Dallas-Fort Worth, and Washington Dulles.
So, all accounts, everything is actually, in a weird, twisted way, on schedule.
But the holiday travel mess isn't over yet. In fact, Wednesday night is just the beginning. Friday, Saturday, and Sunday are going to be pretty terrible, too, especially in northern regions where snow is supposed to hit. So stay calm and make sure you have a charger, sweatpants, and disposable airport-bar income (the essentials, obviously) — and hope the weather stays on travelers' sides.
Just think: When this is all over, you get to do it again next month for the big holidays. Stay strong, everyone.