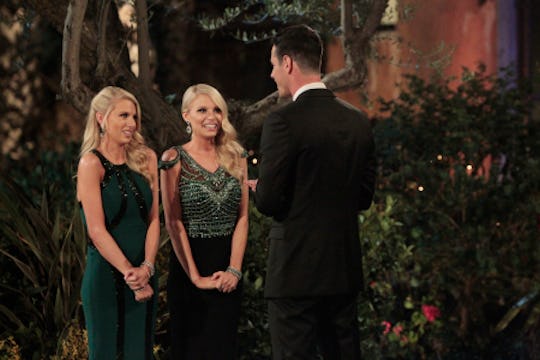 ABC/Rick Rowell
Which 'Bachelor' Twin Left The Show? Sisters Emily & Haley Had A Tough Week
Tonight's episode of The Bachelor found Ben finally taking some time to get to know the twins, Haley and Emily Ferguson, settling a debate that's been raging since episode one: Who would he choose? It turns out that lady is Emily, as Bachelor's other twin, Haley left the show for good this week. As upsetting as it is that #BachelorNation's very first pair of identical twins will no longer be on our screens each week finishing each other's sentences, it had to happen sometime, right? I mean, he couldn't marry the two of them. Could he?
From the moment ABC gave wind that there would be double the trouble this season, we were waiting on the edge of our seats to see how Ben, as charming as he was, would handle the challenge of dating sisters. Prior to this week, the bachelor seemed to be dealing with the situation in his typical, sweet and classy Ben fashion. Most moments he'd spent with them before had been together, and each rose ceremony he has picked the two of them.
That is, until now.
During Monday's episode, Ben decided to take his potential wives to Vegas (sounds creepy, right?) for some more aerial dates and presumably more hot tubs. But with the twins being from Vegas, it set off alarm bells and raised plenty of red flags. Would the twins get the two individual dates, or would Ben take them out together?
To finally put the awkwardness of potentially having two wives to rest, Ben took the two out together to meet their mother at their home in Vegas. And once they got there, it was apparent that Emily was more than willing to sacrifice her sister's chance at romance for her own.
"I really kind of need Haley to go home so that I can focus on my relationship with Ben," Emily said, while also confessing that she believed she had stronger feelings for Ben than Haley did to begin with. Ben then chatted with the twins' mother to gain further perspective on the pair, and it became apparent that now was the time to make his decision. Based on the amount of air time Emily was getting, we pretty much knew it would be her.
While the actual moment was heartbreaking for the twins (getting dumped on-air would be difficult for anyone, right?), it seemed Bachelor Nation was feeling the burn right alongside Haley:
Welp, at least we can rest assured that this season won't be the one where The Bachelor makes polygamy a thing. Phew. (Sorry, Haley.)
Images: ABC/Rick Rowell; Emily, Haley Ferguson/Instagram