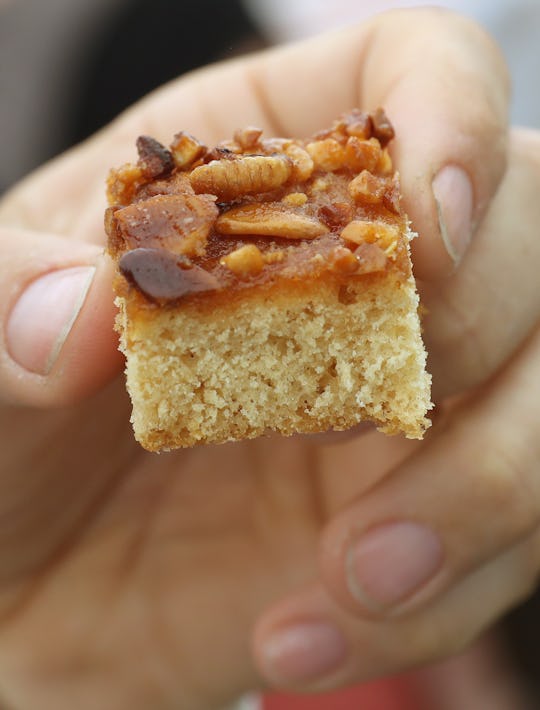 Sean Gallup/Getty Images News/Getty Images
Which Betty Crocker Cake Mixes Were Recalled? The Flour Is Linked to The E. Coli Outbreak
General Mills Inc., the Minneapolis-based food manufacturer, expanded its previous recall of flour this week to include three cake mix products produced under its Betty Crocker brand. Which Betty Crocker cake mixes were recalled? According to a General Mills press release, the affected flavors are Betty Crocker Delights Super Moist Party Rainbow Chip Cake Mix, and Betty Crocker Delights Super Moist Carrot Cake Mix, both sold in the United States. A third recalled mix, sold in Canada, is Betty Crocker Super Moist Rainbow Cake Mix, which is the same as the similarly-named United States flavor, but under a slightly different name.
All of these cake mixes use a particular batch of General Mills' Wondra flour that was included in the recent July 1 recall of several General Mills flour products. This previous recall was linked to 42 E. coli illnesses across 21 states, according to The Minneapolis Star Tribune. The July 1 recall, which was a swift follow-up to a May 31 recall that included the same products but different expiration dates, included 20 million pounds of flour of the Wondra, Gold Medal, and Signature Kitchens brands.
According to CBS News, this latest cake mix recall isn't linked to any illnesses, but General Mills chose to include the mixes in the voluntary recall since they might include the contaminated flour.
None of the illnesses linked to the contaminated flour have been fatal, thankfully, though the particular strain of E. coli in question, E. coli 0121, is potentially deadly. Bill Marler, a Seattle lawyer who specializes in food poisoning lawsuits, told the Star Tribune that the recent General Mills recalls are actually an indication that there's a level of accountability in the manufacture-to-consumer system. General Mills was able to pinpoint the source of the contamination and act relatively quickly. "It looks like the wheels on the bus are coming off, but it's actually a positive thing," he said. "I see recalls as a sign the system is operating like it should."
Be that is it may, food-based E. coli outbreaks continue to be a significant problem in the United States. Just earlier this month, 25 people were sickened with E. coli poisoning after eating at Carbon Live Fire Mexican Grill, a restaurant in Chicago, according to DNAinfo.com. According to the Centers for Disease Control and Prevention (CDC), there are 265,000 cases of E.coli sickness annually, most from food contamination.
The General Mills recall has affected lesser-known products made by other companies that used General Mills flour in their products, according to The Star Tribune. This included recent recalls of particular batches of Krusteaz Blueberry Pancake Mix, in addition to pre-made appetizers produced by Kabob's Acquisitions, a Georgia company that sells appetizers to hotels and restaurants.
It's never good to hear about another E. coli outbreak, but in this case, it's somewhat encouraging that these smaller companies have recognized the link between General Mills flour and their own products. Even a cynic must admit that this is the type of corporate responsibility that saves lives.