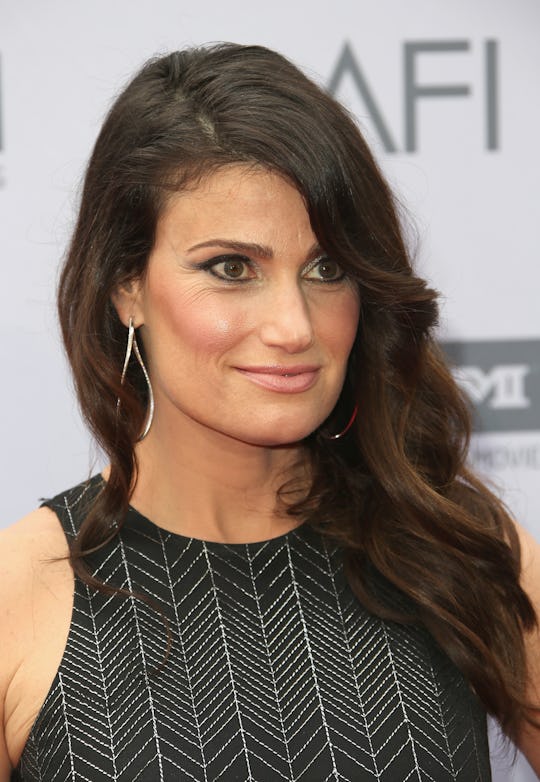 Frederick M. Brown/Getty Images Entertainment/Getty Images
Which Broadway Stars Sang At The DNC? It Was A Star-Studded Stage
In honor of those who have died as a result of gun violence, nearly two dozen celebrities took the stage Wednesday at the Democratic National Convention in Philadelphia to sing "What The World Needs Now." Which Broadway stars sang at the DNC? The lineup of singers included former "Rent" star Idina Menzel, six-time Tony winner Audra McDonald, and Lena Hall, who was celebrated for her role in "Hedwig and the Angry Itch."
Along with these Broadway powerhouses were a roster of singing-inclined actors and celebrities, including Kristin Bell, Debra Messing, Adrienne Warren, Rosie Perez, Liz Callaway, and Darren Criss. The bringing together of these particular celebrities to sing this particular song at the DNC was connected to a larger push to publicize the recently released "What the World Needs Now" single.
Just last week, many of these same stars released the single on BroadwayRecords.com and iTunes as a show of support and mourning for the victims of the Orlando shooting massacre, which took place earlier this month. The benefit single was produced by Playbill, and all proceeds will benefit the LGBT Center of Central Florida, according to Playbill.com.
The single has already been a hit, and it's sure to grow in popularity after the powerful performance at the DNC. Within a week of release, "What the World Needs Now" had risen to number one on iTunes, and was also on the Billboard Hot 100. The song was originally recorded in 1965 and made popular by singer Jackie DeShannon. It has since been remade several times—which makes sense, given that it's both catchy and meaningful.
The roster of stars were already present at the convention on Wednesday afternoon to rehearse. The participation of such an array of celebrities brought excitement to the convention, and delegates gathered during the rehearsal to applaud, according to The Hill.
As the celebrities passed the mic, one to the other, there were moments of awkwardness as the hand-offs were too rapid or too slow. And yet, everyone remained in-the-moment and joyful. Their message was a powerful one. In these difficult times — when so many lives are lost to gun violence — the message of love will continue to resonate.