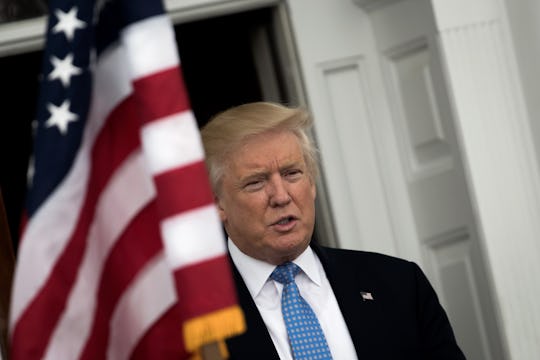 Drew Angerer/Getty Images News/Getty Images
Which Cabinet Picks Can Voters Help Block From Being Appointed?
The whole idea of a Presidential Cabinet is outlined in the Constitution. And as President-elect Donald Trump starts to roll out his appointments, which include controversial hard liners like Alabama Sen. Jeff Sessions and Steve Bannon, many voters are left wondering what they can do to stop it. Which Cabinet picks can voters help block from being appointed? You can call your senator to put pressure on for them to vote down any appointees who require Senate confirmation.
Officially, the Cabinet, according to WhiteHouse.gov consists of the Vice President and the 15 heads of the U.S. executive departments, in addition to several other cabinet-level executive branch jobs. And aside from the VP, many appointees to the cabinet require Senate confirmation, with a few notable exceptions. The White House Chief of Staff, the job Trump has given Reince Preibus, and the job of presidential adviser, the title given to former Brietbart chief Steve Bannon, do not require Senate confirmation, according to CNN. There is little voters can do to influence who is tapped for those posts by Trump. Bannon, in particular, was a highly controversial choice, due to his ties to the racist and xenophobic white nationalist movement.
Trump has also named retired Army lieutenant general Michael Flynn, whose outspoken views against Islam makes many Americans uneasy about how he will advise Trump on the Middle East as his newly appointed National Security Adviser, a job that also does not require Senate confirmation, according to the New York Times.
But, according to ABC News, there are 1,212 senior White House jobs that do require Senate confirmation in addition to a background check. Here is a list of some of the top cabinet posts up for grabs in a Trump administration which require Senate confirmation, giving voters some influence over their confirmation.
Department Of State
This is the highest ranking cabinet position, besides the Vice President, and heated competition has emerged for the appointment from Trump. Top names being considered for the post, according to the New York Times, include Trump critic and former Massachusetts Gov. Mitt Romney, former New York Mayor Rudy Giuliani, and former General Davis Petraeus, who was forced to resign from his post as Director of the CIA as the result of mishandling classified information.
Department Of The Treasury
For all of Trump's campaign talk about "draining the swamp," the leading candidates to handle the American economy as Treasury Secretary include Goldman Sachs executive Steven Mnuchin, private equity and real estate investor Thomas Barrack Jr., and GOP insiders like Texas Rep. Jeb Hensarling, and former Minnesota Gov. Tim Pawlenty, according to the Times.
Department Of Defense
Names being floated for Defense Secretary include former Arkansas Sen. Tom Cotton, and retired Marine Corps General James Mattis, the Times reported.
Department Of Justice
Alabama Sen. Jeff Sessions, who was previously rejected for a federal judgeship in 1986 for alleged racist remarks, has been nominated by Trump to be the next Attorney General. He will likely face similar questions this time around about his past racist comments and activities, according to the Times. Sessions has not responded to Romper's request for comment.
CIA Director
Trump has nominated Kansas Rep. Mike Pompeo to lead the CIA, according to the Times.
Director Of National Intelligence
Former New York Mayor Rudy Giuliani and well-known Trump loyalist is also reportedly a finalist for National Intelligence, according to the Times.
Department Of The Interior
It's been rumored former Alaska Gov. Sarah Palin could be Trump's appointee to manage the nation's public land, according to the Times.
Department Of Agriculture
Kansas Gov. San Brownback is reportedly on the short list of Agriculture Secretary, according to the Times.
Department Of Commerce
The New York Times reports Trump will likely nominate billionaire Wilbur Ross, who has advocated increasing tariffs on trade with China.
Department Of Labor
Victoria Lipnic is one name being considered for Labor Secretary in the Trump administration, according to the Times.
Department Of Health And Human Services
Republican Governors Mike Huckabee from Arkansas, Bobby Jindal from Louisiana, and Rick Scott from Florida, are reportedly all being considered for HHS Secretary, the Times reported.
Department Of Housing And Urban Development
The Times suspects it's Dr. Ben Carson who is getting ready to make the announcement he will accept Trump's appointment, despite his earlier refusal to take a government job due to lack of experience, according to the Times.
Department Of Energy
The list of potential Energy Secretaries includes oil and gas insiders like Continental Resources CEO Harold Hamm and Gryphon Investors Partner Robert Grady.
Department Of Education
Trump has appointed Betsy DeVos, a Michigan billionaire and fierce advocate for school choice measures her critics say are intended to dismantle public education in America, according to Salon.
Department Of Veterans Affairs
Former Massachusetts Sen. Scott Brown is being considered to lead the VA, according to the Times.
Department Of Homeland Security
Trump is reportedly looking at controversial Arizona Sheriff Joe Arpaio, Milwaukee Country Sheriff David A. Clarke and, once again, Rudy Giuliani to head up Homeland Security, the Times reported.
Environmental Protection Agency
Leading the list of possible appointees to the EPA include Myron Ebell, who, according to the Times, is a well-known climate science skeptic.
United States Trade Representative
Chinese trade critic and former CEO of Nucor Corporation, a steel production company, Dan DiMicco, is reportedly Trump's leading choice for this job.
United States Mission To The United Nations
Trump has appointed South Carolina Gov. Nikki Haley to become U.N. Ambassador, who was an early critic of Trump's during the campaign, according to the Times.
So if any of these appointments bother you, as an American you have the right contact your Senator and ask they vote down Trump's appointments.