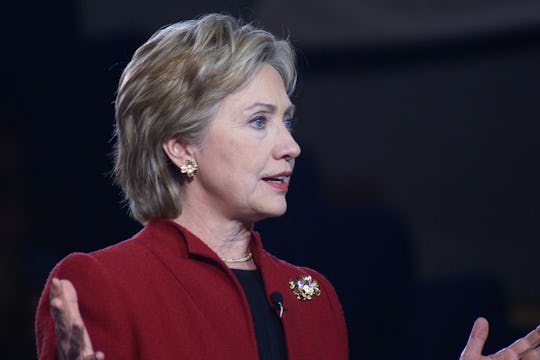 Marc Nozell/Flickr
Which Candidates Will Be At CBS' Democratic Debate? Not Lincoln Chafee, That's For Sure
Unlike the Republican debates, where there are still more than a dozen people packing the stage, there will only be three candidates at CBS' democratic debate on Nov. 14: Hillary Clinton, Bernie Sanders, and Martin O'Malley. But don't think that means the night will get boring — if this crew has showed us anything so far, it's that debates can still be hugely entertaining when no one's screaming at each other.
Lincoln Chafee and Jim Webb both dropped out of the race following the first debate on Oct. 13, and we're all coming to terms with the fact that Joe Biden and Elizabeth Warren apparently really meant it when they said they wouldn't run. But it's cool: We're still in for a show.
The debate will be held at Drake University in Des Moines, Iowa, which has actually been a go-to spot for presidential campaigns since 2007. This time, CBS is running the show, and they've teamed up with Twitter to do it. In other words, expect a lot of hashtags (they'll be taking questions from the general public through Twitter, and they want to know during the debate who you think is #winning).
John Dickerson of CBS News told The Des Moines Register that he wants to focus the debate on economic issues, namely income inequality, wages, and the financing of education and retirement. Sanders may be the most outspoken on these particular issues, so it will be interesting to see how Clinton and O'Malley distinguish themselves with their views. Given her lead, Clinton will most likely get center stage, but come Saturday we'll see who steals the show.
The event will kick off at 9 p.m. Eastern and last for two hours, but, until then, Bustle has some things you can do to prepare for the debate — including an awesome drinking game (if the kids are in bed, of course).
Images: Marc Nozell/Flickr