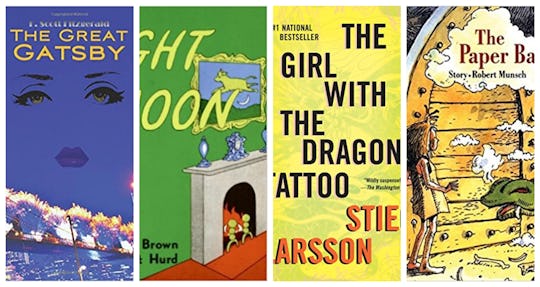 Amazon
This Utterly Blimmin' Perfect Book Guide Matches You With A Kids' Book According To Your Fav Novel
It is a truth universally acknowledged that choosing a children's book with which to enthrall and delight your kids is not easy. In fact, I'd say it's almost as difficult as putting the kids to bed after said book is done, because apparently it is an indignity and a surprise to everyone involved that bedtime occurs not just once or twice over the course of a lifetime, but nightly. Cue the tantrums and the tears.
But back to the books. You want something colorful and engaging. You want something that imparts the right gems of wisdom and dispenses the right life lessons. Most importantly, you want something that you yourself can actually stand to read 40 or 50 times because, let's face it, lots of kids want to hear the same bedtime story over and over again, night after night, until the sun swallows the Earth and civilization ceases to be.
The solution to this problem is a simple one: choose a children's book that is not unlike a novel you wouldn't mind reading on your own. You know, the kind you could lose yourself in at 9:30 p.m. on a Tuesday night when the kids are asleep, the kitchen is clean, and nobody is putting their sticky fingers on the coffee table.
Here is how you know which book is right for you.
If you like A Song of Ice and Fire by George R.R. Martin, you should read The Cat in the Hat by Dr. Seuss.
One is about power, honor, and chaos in a largely cruel and unfeeling universe. The other is A Song of Ice and Fire.
Atheneum Books for Young Readers
If you like Walden by Henry David Thoreau, you should read Cloudy With A Chance Of Meatballs by Judi Barrett.
Simple living and self-reliance are the only ingredients for a life well lived. The idea that one mustn't wait around for mashed potatoes to fall from the sky, but must procure their own mashed potatoes, is a practical lesson as well as a Thoreauan one.
If you like Gone Girl by Gillian Flynn, you should read Harold and the Purple Crayon by Crockett Johnson.
Explore themes such as manipulation, the dark side of ambition, and the dangers of playing god in this thriller about a woman who frames her husband for her murder as well as this children's book about a boy with a magical crayon.
If you like Animal Farm by George Orwell, you should read Don't Let The Pigeon Drive The Bus! by Mo Willems.
Animal Farm is what happens when you allow a tyrant to wheedle his way into a position of authority and go to town on your personal freedom. Don't Let the Pigeon Drive the Bus! is a happier version in which you do not allow that. Both works seamlessly incorporate the spirit of anarchy as well as talking animals.
If you like The Great Gatsby by F. Scott Fitzgerald, you should read Goodnight Moon by Margaret Wise Brown.
Both are quick, easy reads about material excess in modern America. (Why does the bunny own so many THINGS to which he must bid good night? We get it, my guy. You own a comb and a brush, and a rocking chair, and MULTIPLE CLOCKS. Death comes for us all as surely as it came for Gatsby, no matter how many clocks you have.)
Dial Press Trade Paperback
If you like Slaughterhouse-Five by Kurt Vonnegut, you should read Alice's Adventures in Wonderland by Lewis Carroll.
Do you enjoy absurd, mind-bending narratives in which nonsense reigns supreme? Alice's Adventures in Wonderland will surely whet your appetite for that sweet, sweet existential ennui.
If you like The Hitchhiker's Guide To The Galaxy by Douglas Adams, you should read Where the Wild Things Are by Maurice Sendak.
Both are fun romps about exploration that become dark, cautionary tales about human folly when viewed through a postcolonial lens. Perfect for nite-nite time.
If you like The Catcher in the Rye by J.D. Salinger, you should read Charlotte's Web by E. B. White.
The Catcher in the Rye is a coming-of-age tale about a sensitive and lonely teenager who resents society yet still craves companionship and eventually comes to terms with the inevitability of death. Charlotte's Web is a lot like that, but with a pig.
If you like 1984 by George Orwell, you should read The Rainbow Fish by Marcus Pfister.
Much like 1984, The Rainbow Fish presents us with a dystopian society in which bodily autonomy is a thing of the past. Both works also grapple with the rejection of individuality. All purely hypothetical.
National Center for Youth Issues
If you like The Goldfinch by Donna Tart, you should read Ricky Sticky Fingers by Julia Cook.
Is your child beginning to dabble in the subtle art of theft? Let them know that stealing things (like, say, a candy bar at the store, or a friend's toy, or a priceless masterpiece from the Metropolitan Museum of Art) is never OK and will inevitably rob you of your childhood innocence, preying steadily on your peace of mind until you are but a husk of your former self.
If you like The Big Short: Inside the Doomsday Machine by Michael Lewis, you should read The Very Hungry Caterpillar by Eric Carle.
It's never too early to learn that corporate greed has zero consequences. Big banks package subprime loans into collateralized debt obligations large enough to garner AAA ratings, thus causing the collapse of the housing market. Similarly, caterpillars Eat All The Food. One gets bailed out; the other transforms into a butterfly. No one is held accountable.
HMH Books for Young Readers
If you like Freedom by Jonathan Franzen, you should read Curious George by H. A. Rey and Margret Rey.
After all, what is freedom? Aren't we all just monkeys in cages performing for an audience indifferent to our confinement?
If you like Heart of Darkness by Joseph Conrad, you should read I Want My Hat Back by Jon Klassen.
Does your child know about the inherent darkness that lives within us all, lying ever dormant until suddenly it's not? They probably don't. And since Heart of Darkness is a little too esoteric, I Want My Hat Back will do just fine. Nobody embarks on a downward spiral into madness on the Congo, but the bear is implied to have committed murder.
Atheneum Books for Young Readers
If you like Les Misérables by Victor Hugo, you should read Alexander and the Terrible, Horrible, No Good, Very Bad Day by Judith Viorst.
So, you enjoy books about human suffering, redemption, and the idea that evil endures, and you're searching for a way to introduce these concepts to your children. Look no further than Alexander and the Terrible, Horrible, No Good, Very Bad Day, which doesn't have any heartless inspectors or doomed revolutions but DOES have water that's too hot for bath-time.
Barnes & Noble Shakespeare
If you like Macbeth by William Shakespeare, you should read If You Give a Mouse a Cookie by Laura Numeroff.
If you give a mouse a cookie, he will not be satisfied until he also has milk, and a straw, and the Scottish throne, the road to which is paved with the slaughter of innocents.
Vintage Crime/Black Lizard
If you like The Girl with the Dragon Tattoo by Stieg Larsson, you should read The Paper Bag Princess by Robert Munsch.
Clearly, you wish to give your son or daughter powerful female role models without all the violence and murder of Stieg Larsson's bestseller. What The Paper Bag Princess lacks in serial killers it more than makes up for in princesses subverting the damsel-in-distress trope by saving the prince. Also, dragons appear in both, if that sort of thing is important to you.
If you like A Visit From The Goon Squad by Jennifer Egan, you should read The Phantom Tollbooth by Norton Juster.
What better way to instill in your small, impressionable child the notion that time (a fickle and slippery beast) never stops and, indeed, makes fools of us all?