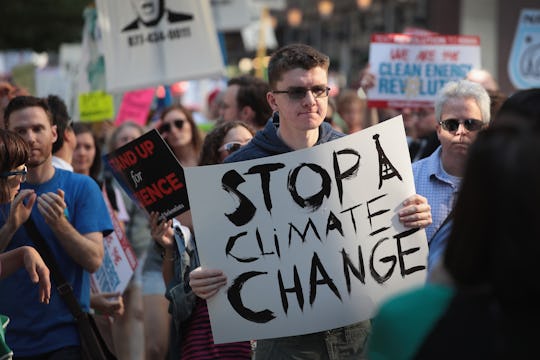 Scott Olson/Getty Images News/Getty Images
Over 180 Mayors Have Pledged To Follow The Paris Climate Agreement
The Paris Climate Agreement was all anyone could talk about this past week when President Donald Trump pulled out of the historic pact made in 2015. The pact was made to ensure that the 196 nations participating would cut down on global emissions and work together to cut down the impact that people have on climate change. While the president withdrew the nation from the Paris Agreement, he didn't withdraw the nation's citizens from caring about our world. This shows in the sheer amount of cities that have pledged to follow the Paris Agreement following Trump's withdrawal — and thankfully, there are a lot of them.
As of Friday, 180 mayors in cities across the United States declared that they will "adopt, honor, and uphold" the commitments outlined in the Paris Agreement. Together, the "Climate Mayors" represent 51 million citizens, by making this commitment protect their citizens from the harms of pulling out of the Paris Agreement. Their political views might not all be the same, and the cities and people they represent are incredibly diverse, but do agree on the same thing: they will continue to uphold the standards outlined in the Paris Agreement. This means that they will participate in trying to keep global temperatures from rising 2 degrees celsius work to switch to greener sources of energy, and cut down on emissions.
So what cities have pledged to follow the Paris agreement in spite of the president? A lot of them. Mayors of major cities like Los Angeles, California, Boston, Massachusetts, and New York City are partaking in upholding the standards. Mayors from smaller, lesser known cities, like Bayfield, Wisconsin or Corvallis, Oregon, have also agreed. There are mayors representing cities in all 50 states. You can read the full list on Medium to find if your mayor is partaking in these standards (and then urge them to join if they aren't already on the list).
Even the mayor of Pittsburgh, Pennsylvania, Bill Peduto, has committed to adopting the Paris Climate Agreement goals — even after the president said on Wednesday "I was elected to represent the citizens of Pittsburgh, not Paris," during his speech announcing the United States' withdrawal from the agreement. Guess he should have checked with the people of Pittsburgh (who overwhelmingly voted for Hillary Clinton, according to CNN) on that one.
These Climate Mayors are not the only ones willing to take a stand against Trump. According to the New York Times, representatives from cities, states, and companies across the United States are preparing to submit a plan to the United Nations that will ask to meet the United States' greenhouse gas emissions targets under the Paris Climate Accord.
This act of defiance shows resistance against the current president and his actions — what he thinks is for the greater good of American citizens doesn't mean that the representatives of those people agree.