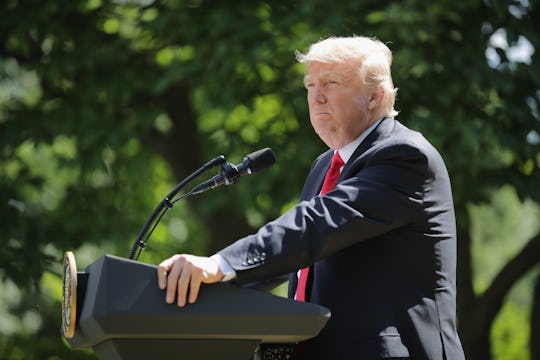 Chip Somodevilla/Getty Images News/Getty Images
US Joins 2 Other Nations Refusing Climate Deal
Making America great again can mean very different things to just about everyone. Clearly, the phrase on President Trump's signature red campaign hats has taken on a life of its own, but the president's latest actions call into question (yet again) what exactly he's doing to accomplish that ever-looming promise. Thursday afternoon, Trump announced that he has decided to pull the United States out of the Paris Climate Accord, a historic move that signals the administration's priorities are not on par with the 194 other nations that are part of the agreement. So, which countries aren't part of the Paris climate agreement? The United States is now one of only three nations to refuse to be part of the historic agreement.
As The Washington Post reports, Syria and Nicaragua are the only countries who didn't sign the agreement in Paris back in 2015, both for different reasons. However, neither Nicaragua nor Syria are world leaders — at least not in the way that the United States is. So, while both countries' refusal to enter the agreement may be notable, it isn't nearly as significant as Trump's latest statements.
"This agreement is less about the climate and more about other countries gaining a financial advantage over the United States," Trump told reporters on the White House lawn Thursday afternoon, pointing straight to his campaign notion of putting "America first," as his primary reasoning behind the decision.
Trump's decision to pull out of the Paris accord isn't something to take lightly, though. While Syria and Nicaragua are together only responsible for 0.28 percent of global greenhouse gas emissions, the United States contributes to 15 percent of the global Carbon Dioxide emissions, according to the Environmental Protection Agency.
However, despite their relatively small part in climate change, Syria's and Nicaragua's decisions not to sign the Paris agreement doesn't necessarily mean that they don't care about the environment. For one, "Nicaragua's lead envoy explained to reporters that the country would not support the agreed-upon plan as it hinged on voluntary pledges and would not punish those who failed to meet them," as The Washington Post explains. Nicaragua, it seems, did not feel that the Paris agreement put enough pressure on countries to lower their carbon footprint. Syria, as it remains so today, was under sanctions at the time of the agreement, and therefore couldn't even come to the meeting of nations to sign the official documents.
Both nations' decisions not to sign the accord are important, yes, but not nearly on the same level as Trump's refusal.
"We're getting out," Trump said of the Paris agreement. "And we will start to renegotiate and we'll see if there's a better deal. If we can, great. If we can't, that's fine." However, as other nations speak out, it seems as though renegotiation is futile. So, for now, America is officially part of the minority when it comes to climate change, for better or for worse (or, in this case, just "worse").