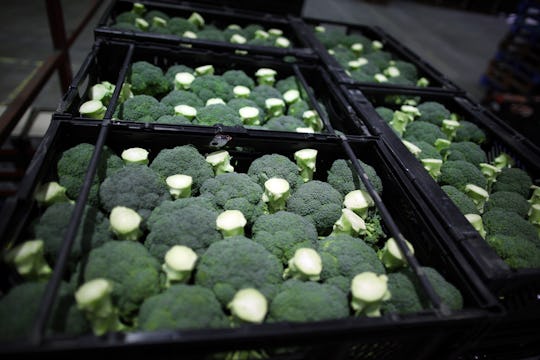 Peter Macdiarmid/Getty Images News/Getty Images
Which Country Fresh Products Were Included In The Recall? Walmart & Publix Were Affected
Another day, another food recall. Country Fresh, the Texas-based food company, announced on Friday that it was choosing to recall 30,000 units of fresh-cut vegetable products, including products sold at popular chains like Walmart and Publix. Which Country Fresh products were included in the recall? A full list of products is available at the U.S. Food and Drug Administration's website, and it includes a variety of products with "best if used by" dates between Aug. 7 and Aug. 19, 2016. The recall is over concerns that the products are potentially contaminated with Listeria, an organism that can cause serious, even deadly, infections.
The items in question are sold in either clear plastic containers or Styrofoam trays covered with clear plastic wrap, according to Fox News. The upside to the recall — if there's ever an upside in a recall situation – is that the recall only affects products sold in Alabama, Florida, Georgia, Kentucky, Mississippi, North Carolina, South Carolina, Tennessee, and Virginia. The stores carrying the products include Winn Dixie, Walmart, The Spinx Company, QuikTrip, Publix, Harris Teeter, Fresh Point, and Bi-Lo. According to the FDA, there have been no known illnesses caused by these products; Rather, a routine sample taken in a store by the Georgia Department of Agriculture tested positive for Listeria.
As a result of this single sample, Country Fresh decided to recall all products that may have derived from the same location as the Listeria-positive sample. "We are treating this incident very seriously because we want to ensure that our customers are provided with only the safest, most wholesome, and high-quality products available," Max Payen, Country Fresh's Director of Food Safety, told the FDA.
While no known illnesses have been caused by this Listeria contamination, the food industry has certainly learned the risks from previous, well-documented Listeria contaminations, including a frozen vegetable contamination that began in 2013 and eventually led to nine illnesses and one death, according to the Centers for Disease Control and Prevention. Another recent Listeria scare was the infamous Blue Bell Ice Cream contamination, which took place from 2010 to 2015 and was eventually traced to ice cream manufacturing facilities in Texas and Oklahoma, according to Food Safety News.
The foods in question with the Country Fresh recall are favorites for those seeking a health-conscious party tray, and this recall may very well disrupt the party menu for families getting into the spirit of the NFL pre-season. Items include: pre-packaged grilling vegetables and stir-fry mixes, pico de gallo mixes, stuffed mushrooms, vegetable kabob kits, diced onions, and sliced peppers. The name of the product depends on which store packaged it, so it's important to cross-reference the FDA's list for the specific package description.
Again, it's important to emphasize that the contamination was caught before any illnesses were reported. We can all be grateful for the quick decision of Country Fresh, and hope that other food companies continue to make wise, informed decisions.