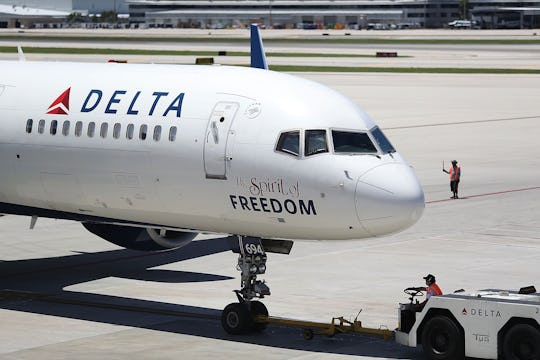 Joe Raedle/Getty Images News/Getty Images
Which Delta Flights Are Affected By The Outage? Operations Are Beginning To Resume
From airports in Tokyo to Athens to Los Angeles, thousands of travelers are, well, not doing much traveling if they're scheduled for a Delta Air Lines flight, as the airline experienced a massive power outage that grounded flights worldwide Monday morning. Officials first reported the problem at about 2:30 a.m. Eastern Time, and announced that it would resume some flights about six hours later amid continuing challenges (and, undoubtedly, frustrated customers and frazzled staff). The company is determining which Delta flights are most affected by the outage, and has already announced that it will offer travel waivers for those who are most inconvenienced.
At 8:40 a.m., Delta lifted the "ground stop" that the power outrage, which originated in Atlanta but affected systems worldwide, had imposed. Still, it warned that delays and cancellations would persist, at it looks as though they may plague the airline for the rest of the day and possibly beyond. Although those lucky travelers already on flights that were en route when the debacle began were reportedly unaffected, Delta had to make some adjustments to try to appease its grounded customers. One Twitter user in Kona, Hawaii, for example, tweeted that the crew had provided pizza for passengers.
And the widespread outage even seemed to catapult the airline back into a bygone technological era: The Associated Press reported that in Richmond, Virginia, Delta staff members were providing handwritten boarding passes. So, while some flights have resumed after a long, chaotic wait, the fact that the airlines check-in systems, website, and smartphone apps went on the fritz means problems will continue. That's ostensibly why Delta is refunding tickets for passengers whose flights are canceled for being "significantly delayed," according to CNN, and won't charge customers who need to change their flight plans between now and August 12.
NBC news reported that the massive six-hour outage affected tens of thousands of passengers, and noted that the resumption in flights is definitely limited. Twitter user Jackie Watanabe, whom CNN reported was trying to fly from Las Vegas to Minneapolis, chronicled the wait and Delta's attempts to placate its passengers by passing out red blankets and lots of treats. When she finally got on the flight, she tweeted that Delta provided the universal white dove of some Mickey D's:
When it comes to figuring out which flights were affected by the power outage, the task is pretty easy. With the exception of those that were already in the air when the major glitch occurred, the answer is all of them in the entire world. Unfortunately for Delta, acknowledging that may be the least difficult it has as it works to mitigate the effects and inevitable blowback of customer dissatisfaction. At the end of all this, Delta's staff on the ground is going to need some free pizza, too.