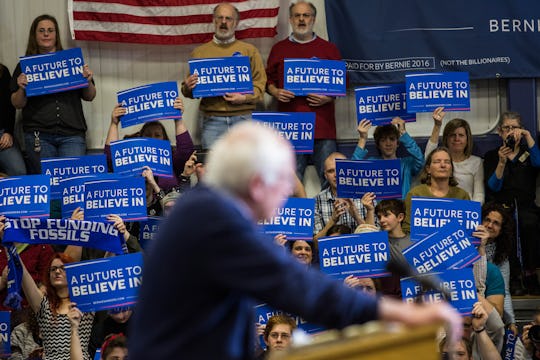 Andrew Burton/Getty Images
Which Democrat Will Win New Hampshire? A Bernie Sanders Victory Could Signal Big Changes In The 2016 Race
New Hampshire voters are ready to cast their ballots. With the primary season finally underway, the Granite State is prepping for what will inevitably be an important moment in the 2016 campaign, no matter the outcome. While the general public is already making its predictions about which Democrat will win the New Hampshire primary, politicos, pundits, and campaign staffers alike are looking ahead to what comes afterward, and trying to suss out the candidates' next big moves.
While the race is sure to be an interesting one — former Secretary of State Hillary Clinton still maintains an overall aggregated lead of 49 percent to Vermont Sen. Bernie Sanders' 36 percent, according to a Real Clear Politics average —Sanders has managed to pull ahead in at several major New Hampshire polls in recent weeks, evening the playing field somewhat and giving him a leg up over Clinton. Even factoring in a slight numbers dip (a CNN/WMUR poll put out this week showed Sanders had lost 3 percentage points in the past week or so), Sanders currently maintains a 23 point lead over Clinton with 58 percent of the prospective vote, according to that same poll.
According to one source close to the Clinton campaign, that could signal a momentous shift in the former Secretary's long game.
In a comment to Politico on Monday, an anonymous insider told the outlet that the Clintons were "not happy" with the Secretary's New Hampshire numbers and that there could be prospective shake-up within the staffing ranks if Clinton wasn't able to score a victory in the Granite State. "The idea is that we need a more forward-looking message, for the primary — but also for the general election too," said the source. "There's no sense of panic, but there is an urgency to fix these problems right now."
A campaign refresher could signal big things for Clinton going forward, but it's unlikely that any of that talk will help boost her numbers in New Hampshire before Tuesday night. With Sanders so far in the lead in most polls there (both a Monmouth and UMass poll have Clinton behind 10 to 16 points respectively), it's almost a guarantee that the neighboring Vermont senator will take home the highly-coveted win.
That could all change, of course. A quick look at the Iowa caucus is all any candidate needs to see that last-minute rallies can work. With the GOP battle in there effectively tipping the scales in the other direction (with front-runner Donald Trump giving up the win to second-place candidate Ted Cruz earlier this month), A Democratic primary surprise isn't completely out of the question — it's just not as likely.
A Public Policy Poll released in early January showed Sanders outranking Clinton by a wide berth in terms of general popularity. According to the survey, which was conducted between Jan. 4-6, Sanders led the former Secretary with an 85/8 percent favorability rating to Clinton's 69/24 split.
Those numbers could be the result of several factors. In a column this week, Bloomberg Politics noted that, since her 2008 primary win in the state, New Hampshire voters have cast a wary eye on Clinton, with her support "among women and those earning less than $50,000 a year" effectively eating away at any winning prospects the former Secretary may have earned otherwise. At the same time, the outlet added, the New Hampshire electorate had "changed" dramatically enough that it threw the likelihood of a Clinton win into limbo.
"Hillary Clinton is not the Hillary Clinton of 2008," Andrew Smith, director of the University of New Hampshire Survey Center, told Bloomberg. The outlet then quoted Smith as saying that there was "an advantage in New Hampshire for Sanders — not necessarily because voters know him better, but because Democratic voters in the state are similar to those in Vermont" and because it had been "easy for Sanders to campaign there."
While it's likely that those factors — combined with Sanders and Clinton's fiery performance during last week's debate — will help the Vermont senator eek out a win in the Granite State on Tuesday, New Hampshire is just the beginning of what will be a long and exhausting primary battle for the two remaining Democratic presidential candidates.
"Hillary's building a case that is much more likely to be durable over the course of the campaign than the one Senator Sanders is making," pollster Geoff Garin, of the pro-Clinton super PAC Priorities USA Action, told The Washington Post this week. In contrast, Sanders strategist Tad Devine argued to The Post that a win in New Hampshire could be just the thing Sanders needed to help him chip away at Clinton's overall numbers. "New Hampshire could be a huge momentum event," said Devine. "That's what we're shooting for."