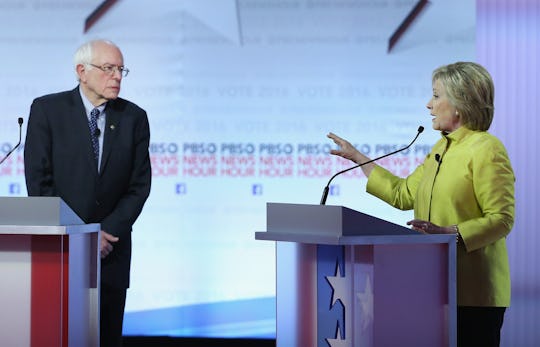 Win McNamee/Getty Images News/Getty Images
Which Democrat Will Win Super Tuesday? A Clinton Win Might Not Decide The Nomination
Voters in 12 states head to the polls on Tuesday in one of the most crucial voting and caucusing days of the presidential election season. Super Tuesday, held March 1, will determine who gets about 25 percent of the total number of Republican delegates and almost half of the total number of Democratic delegates, according to AL.com Which Democrat will win Super Tuesday? Three new NBC News/Wall Street Journal/Marist polls released Monday showed former Secretary of State Hillary Clinton leading by a pretty big margin in three states. Business mogul Donald Trump was also ahead in two states, according to NBC.
NBC reported the Clinton was ahead of Vermont Sen. Bernie Sanders by an almost 2-1 margin in three Super Tuesday states. Clinton lead in Georgia, 64 percent compared Sanders' 30 percent; in Tennessee, 60 percent to 34 percent; and, in Texas, 59 percent to 38 percent. According to The New York Observer, though it seems as though a lot of delegates will be doled out on Tuesday, it actually won't be enough to guarantee anyone the nomination — unless a candidate wins by a large margin. The Observer reported that Sanders only needs to win 45 percent or more of the delegates on Super Tuesday to be in good shape heading into primaries in Wisconsin, Ohio, and Michigan, which are feeling the Bern.
So far, Clinton has 544 delegates and Sanders has 85, according to the International Business Times. But it's worth nothing that most of Clinton's delegates are actually Superdelegates. Of Clinton's total, 453 are superdelegates. Only 20 of Sanders' are superdelegates, according to the IB Times. Why are the superdelegates not as strong as delegates awarded by voters? Well, because superdelegates are people who represent an area. If superdelegates see Sanders gaining momentum, then they can change their support and decide to support him over Clinton. That would be bad news for Clinton, since most of her support is coming from superdelegates.
The Observer noted that, if Clinton pulls way ahead of Sanders during Super Tuesday, then it will be much harder for him to catch up to her later on. That's why The Observer aptly titled its article on the subject "Will the primaries be over after Super Tuesday?," because, if Clinton pulls ahead by a large margin, then they very well could be.
Additionally, it will matter which states the Sanders and Clinton win, because some states award many more delegates than others. For example, the jackpot state on Tuesday will be Texas, which AL.com reported holds 252 Democratic delegates. But the odds of someone winning all — or even the majority of — delegates in Texas is low. The Star-Telegram reported that a Democratic candidate could win all of the state's delegates if he or she wins 85 percent of the vote. But, if a candidate doesn't win that amount, then the delegates are awarded based on a proportional formula.
So, will Clinton win Super Tuesday? Probably, but it's still unclear by how much, and the "by how much" will determine whether her win at Super Tuesday will actually matter.