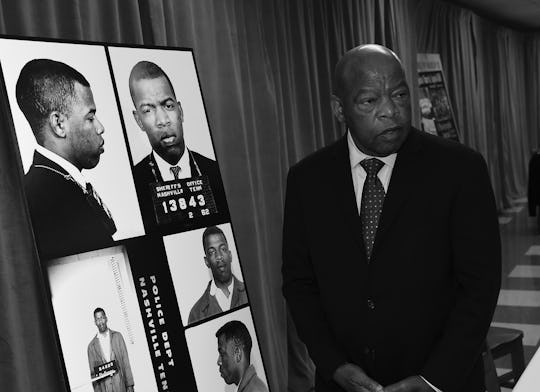 Rick Diamond/Getty Images Entertainment/Getty Images
These Democrats Are Boycotting The Inauguration
Donald Trump will be sworn in to office as president of the United States in less than one week's time. Many Americans are hoping they will wake up and this fraught transition period, filled with the social media rants of white nationalists, Twitter feuds, and Russian hacking, will have all been some sort of bad dream. Since we all know that this likely isn't going to happen, people are organizing and getting ready to protest the inauguration instead. Civilians from across the country have been preparing to march on Washington, D.C. following the ceremony, and on the Hill, many Democratic lawmakers are boycotting the inauguration, as well. They've all got pretty good reasons for missing the event, too.
Americans in opposition of Trump's presidency have been calling for Democratic leadership to protest the inauguration for some time, and as a result, after President-elect Trump went after Congressman John Lewis on Twitter last week, more Democrats are deciding not to attend his swearing in ceremony.
Lewis has been the U.S. Representative for Georgia's 5th congressional district since 1987, but has been serving the United States for even longer. He was one of the "top organizers of the 1963 March on Washington, and his skull was fractured by state troopers police on 'Bloody Sunday,' the civil rights protest in Selma Alabama two years later," according to Politico.
Lewis openly questioned Trump's capability to serve as POTUS in an interview with NBC's Meet the Press on Friday, saying that he thinks the "Russians participated in helping this man get elected, and they helped destroy the candidacy of Hillary Clinton," as well as stating he definitely would not be attending Trump's inauguration. Trump obviously wasn't able to help himself from hopping on Twitter and lambasting Lewis, calling the Civil Rights hero "all talk, talk, talk - no action." This Twitter rant seemed to be the last straw for many Democrats planning on attending the inauguration in the spirit of democracy. Following Lewis' lead, more members of the Democratic leadership are pulling out the inauguration.
CNN reported this week that at least 17 Democrats have come out in support of Lewis, publicly stating that they would not be attending Trump's inauguration as a result. New York Rep. Adriano Espaillat issued a statement on his official Facebook page that explained his own decision not to attend:
Many have given their lives and dedicated their lives to working to fulfill Dr. King's dream and make it a reality, and it is up to us to preserve his legacy and the legacy of President Barack Obama to ensure that we do not go back in time! President-elect Donald Trump is trying to take us back! And the people Trump is appointing -- Steve Bannon, Jeff Sessions -- are trying to take us back! That's why I am not attending the presidential inauguration. Donald Trump and the hate-filled rhetoric that plagued his election simply will continue in his administration. THIS is not Dr. King's Dream!
Democratic representatives from across the country echoed this sentiment. From Oregon Rep. Earl Blumenauer to Massachusetts Rep. Katherine Clark, it seems that Lewis has once again inspired his fellow countrymen to stand up for what they believe in. Here's the full list so far, according to CNN:
Rep. John Lewis (Georgia)
Rep. Mark Takano (California)
Rep. Yvette Clarke (New York)
Rep. Ted Lieu (California)
Rep. Raul Grijalva (Arizona)
Rep. John Conyers (Michigan)
Rep. Mark DeSaulnier (California)
Rep. Nydia Velazquez (New York)
Rep. Kurt Schrader (Oregon)
Rep. William Lacy Clay (Missouri)
Rep. Barbara Lee (California)
Rep. Jose Serrano (New York)
Rep. Judy Chu (California)
Rep. Luis Gutierrez (Illinois)
Rep. Jared Huffman (California)
Rep. Katherine Clark (Massachussetts)
Rep. Earl Blumenauer (Oregon)
Rep. Adriano Espaillat (New York)
Rep. Pramila Jayapal (Washington)
Rep. Mark Pocan (Wisconsin)
Rep. Marcia Fudge (Ohio)
Rep. Maxine Waters (California)
Some representatives, like California's Jared Huffman, are taking their protests one step further. Not only will he abstain from attending the inauguration, he will use that time to make a positive influence in the community he serves.
While it seems no one can stop Trump from taking office on Friday, it's encouraging to see congressional leaders taking a stand and supporting their constituents during this troubling time.