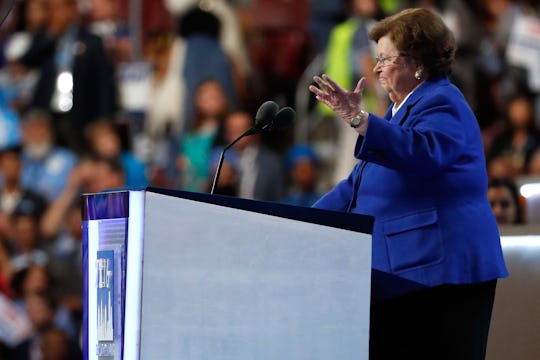 Aaron P. Bernstein/Getty Images News/Getty Images
Which Female Senators Spoke At The DNC? They Were Pretty Inspiring
At the Democratic National Convention on Thursday, there was a lot of focus on Democratic nominee' Hillary Clinton breaking the glass ceiling of the Oval Office. There was a great video featuring all of the female Democratic senators talking about the issues close to their hearts. Then, a group of female senators spoke to the DNC attendees; They were led by Maryland Sen. Barbara Mikulski, who was the first female senator. (And everyone should take a minute to look up her speech because she, and all the others, were pretty badass.)
Mikulski revved up the crowd about getting behind Clinton in the general election, saying what seems to be her tagline: "Women put your lipstick on; Men, polish your shoes," she said. Because it's time for Democrats to fight. It would be nice, of course, if women didn't have to have lipstick on to fight, but Mikulski is my hero, so we'll let it slide.
Each senator spoke about their personal pet issues, like paid family leave, healthcare, and really just sticking to the man (this time, literally). They also shared personal stories. Like California's Barbara Boxer calling her a "workhorse" when they worked together in the Senate. "I saw her true character," Boxer said, of Clinton's work after 9/11 to get healthcare for the first responders. Even when "the camera's were off," she said.
Aside from Boxer and Mikulski, Patty Murray (Washington), Debbie Stabenow (Indiana), Maria Cantwell (Michigan), Amy Klobluchar (Minnesota), Claire McCaskill (Missouri), Jeanne Shaheen (New Hampshire), Kirsten Gillibrand (New York), Tammy Baldwin (Wisconsin), Mazie Hirono (Hawaii), and Elizabeth Warren (Massachusetts) also spoke about why Clinton is the right person for the job and why she's especially the right woman.
Aside from talking about Clinton's activism and dedication as a politician, there were some moving stories, too. Claire McCaskill shared that when she was diagnosed with breast cancer last year, Clinton called her often to check in and see how treatment was going and how she was feeling. Much like some of the other speeches this week, like that of vice president Joe Biden and former President Clinton, the segment worked to humanize the Democratic candidate.
It was girl-power in a pantsuit party for almost 20 minutes and it worked to drive the point home that, even if you're not a Clinton voter, it's a really big deal that a woman has a chance at the White House. The only problem with the Democratic female senators? First of all, there are only 20. But even worse is that they are all white, white, white — except for Hawaii's Mazie Hirono.
If Clinton actually makes it into the White House and sticks to all the platforms and issues she's running on, hopefully there will be an opportunity for some women of color to take that stage at the next convention. I mean, why not even dream big here — maybe even an lesbian, bisexual, or transgender woman. And eventually, we can drop that line about lipstick and just take females in power as a given.