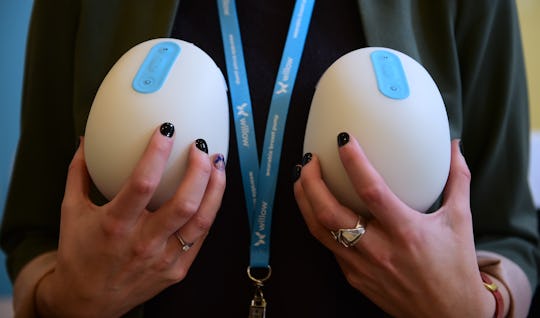 FREDERIC J. BROWN/AFP/Getty Images
Will Your Insurance Cover The Smart Breast Pump?
Pumping is not the most convenient activity for mothers with breastfeeding babies. Pumps can come with too many parts, making assembly difficult, can be a bit of a hassle, or generally serve as yet another inconvenience for mothers (especially those heading back to work soon after giving birth). But the newest breast pump on the scene in 2017 is sure to change the game and turn pumping on its head. So how does it work, exactly? How much will this new breast pump cost? And which insurance plans cover the smart breast pump? Some of these details have yet to be released. But, if the pump is covered by insurance, it could save women a lot of money, and that's good news for everyone.
The Willow wearable breast pump was all of the rage at the 2017 Consumer Electronic Show (CES), noted for its super innovative and convenient way to modernize breast pumping. The concept of the pump is simple — the pump attaches to the breast handsfree, allowing milk to collect inside the pump in an internal bag — which also allows for women to multitask while they pump. The breast pump also syncs with a phone app that tracks how much milk is collected. Pretty cool, right?
According to CNN Money, the smart pump will be available to purchase this spring and will cost $429. According to Engadget, the price of the smart breast pump is "comparable to what you'd pay for a regular motorized breast pump."
So what insurance companies cover the pump, and is yours on the list? That much is still unclear. Willow did not immediately respond to Romper's request for comment about which plans the pump would be covered under — but if you're on a budget, don't lose hope just yet.
When the Affordable Care Act was introduced by the Obama administration, it allowed for women to receive a free breast pump. According to the Department of Health and Human Services, the act requires most health insurance plans to cover the cost of a breast pump, however, that varies by insurance policy, the state you live in, and the brand of breast pump. According to HHS officials, if women are denied coverage for a breast pump by their private insurance provider, they can file an appeal.
Some breast pump brands — like Medella — provide guides to help determine which of the brand's pumps might be covered under specific insurance policies in the United States. Other breast pump brands — like Naya Health — do not sell their pumps through insurance providers — and instead can be purchased with things like Health Savings Accounts, depending on the buyer's insurance plan.
So what does this mean for you? The short answer is for moms and moms-to-be to seek guidance from their own insurance company, in their state, to determine if their plan will cover or reimburse the cost of the pump. You can also contact the company itself, if you're extra nervous about that budget, to get the details you need to figure it all out.
This pump is an innovation in breastfeeding — and hopefully something that women everywhere will have access to eventually.