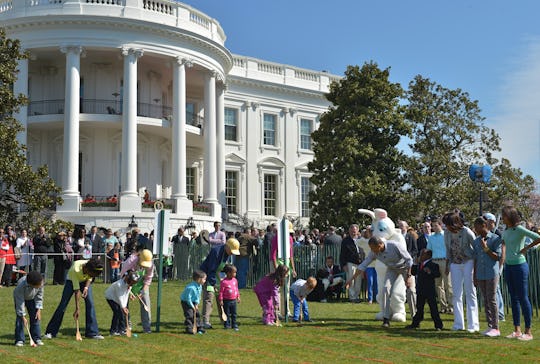 MANDEL NGAN/AFP/Getty Images
Which Kids Have Lived In The White House? There Have Been Many
There have been a lot of Presidents of the United States of America that have lived in the White House and even more children of those presidents to live in the White House. Yes, children have been lucky enough to call the grand building located on 1600 Pennsylvania Avenue their home for four — or eight — years. But of the past 44 presidents — which kids have lived in the White House?
As it turns out, quite a bit of children have resided in the official home and there is plenty of space for them to live there. The White House boasts 132 rooms and 35 bathrooms in the residence for children to find a place to sleep and comes with a stellar security system that makes sneaking out incredibly hard for a teenager. The home also comes with a private chef and dozens of very important visitors, but those who have lived and grown up in the White House all say that life and growing up was pretty normal.
While Democratic Party nominee Hillary Clinton won't be bringing in any children with her this go around, if she were to secure the nomination for president — Republican Party nominee Donald Trump however, will. Donald's youngest son, Barron, is only 10-years-old and could take residency once Sasha and Malia Obama move out.
In the mean time, here is a list of some of the more notable children that have live in the White House.
Malia and Sasha Obama
Malia was only 10-years-old when Barack Obama was elected president in 2008 and moved the family from Chicago, Illinois to Washington D.C. Her younger sister, Sasha was only 7-years-old. Now, at 18 and 15, respectively — the two girls have developed into bright and fun teenagers with a typical dad that just so happens to be the President of the United States. The kind of typical dad that makes Janelle Monae and Kendrick Lamar sing their daughter a Happy Birthday.
Chelsea Clinton
Despite having moved into the White House at 12-years-old and leaving for college just five years later, Clinton claims to have had a very normal upbringing while growing up in the White House. However, despite her famous address she never forgot just how much living in the White House meant to a child. "...I would come home from ballet class or school or a friend's house and I would walk into the White House and I was always aware of being part of this extraordinary history and I felt a responsibility to be respectful of that history," Clinton told The Alli Simpson Show. "So I think it was both more ordinary than people may expect, but I also never lost sight of how extraordinary it was..."
The Fords
In a 2012 interview with fellow children of former presidents, Steve Ford — one of the sons of 38th president Gerald Ford said he pulled some pretty crazy stunts when he lived in the White House as a teenager in the 70's. Ford claimed he dragged a stereo out to the roof, the first night he and his family moved in and played music. "I think we were playing like Led Zeppelin's 'Stairway to Heaven.' Literally it was like 'Dumb and Dumber,'" Ford said.
The Bush Twins
While Jenna and Barbara never lived in the White House (they were 19 when their dad, George W. Bush, became president) they still spent plenty of time in the White House while their parents lived there for eight years. According to Jenna, her and her sister had plenty of fun slumber parties and admitted to engaging in "a little hanky panky" while her parents resided in the home, telling Watch What Happens Live "there was maybe a kiss on the roof."
These children are only the tip of the iceberg when it comes to the 44 presidents that have resided over our country and lived in the White House. While there isn't an exact total of how many children have lived in the White House, it is reported that at least 24 kids have lived there — from 2nd president John Adams who was the first one to live in the White House and then on to current day.
With each and every new presidency, new children and even grandchildren are introduced to the hundreds of rooms inside the nation's most famous home. In just a few short months, the world will know if the White House gained one more kid to grow up in its hallowed halls.