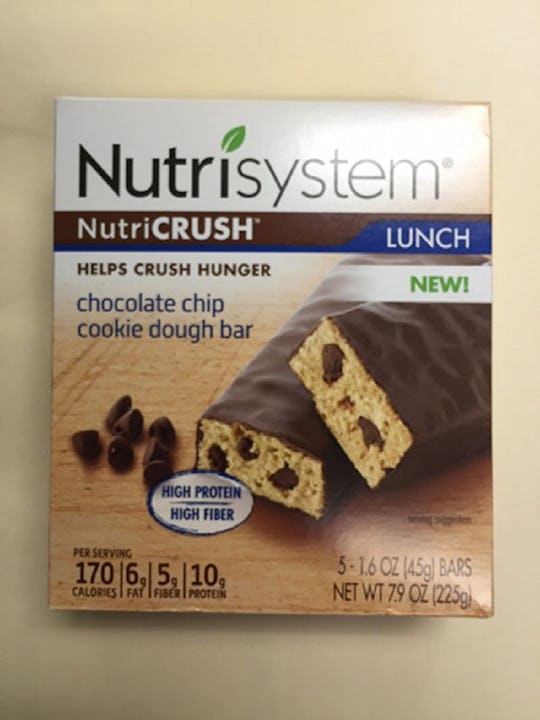 Nutrisystem
Which Nutrisystem Bars Have Been Recalled? Only A Few Cases Are Impacted
A popular weight loss program, Nutrisystem, is voluntarily recalling one flavor of its snack bars as the result of listeria concerns. A third-party supplier that provides the cookie dough for the snack bars gave Nutrisystem a warning that the ingredients potentially contained listeria. Out of an abundance of caution, Nutrisystem has issued a recall. So which Nutrisystem bars have been recalled? The potentially dangerous bars are the Nutricrush Chocolate Chip Cookie Dough flavor.
The good news is that the potentially contaminated bars are limited to a small number, just one lot, or 455 cases of the bars. According to Nutrisystem, the bars were sold in ShopRite and Hannaford retail stores across the East Coast, including in Connecticut, Delaware, Massachusetts, Maryland, Maine, and New Hampshire, New Jersey, Pennsylvania, Rhode Island, Virginia, and Vermont. The bars were also available through both Walmart.com and Amazon.com.
The recalled Nutrisystem Nutricrush Chocolate Chip Cookie Bars were sold in 5-count boxes, according to Nutrisystem. If you're concerned you might have one of the recalled boxes of bars, take a look at the UPC Code on the box. The recalled boxes, according to Nutrisystem, have the following UPC Code, which can be found on the back of the carton: "UPC 6 32674 85579 4." The recalled boxes also have a lot code listed as "NF082216A."
Listeria is a potentially very dangerous food borne illness. Pregnant women, children, and the elderly are particularly vulnerable, according to the Centers for Disease Control. Listeria is caused by a bacteria that can spread to other areas of the body, particularly in pregnant women. For women who are pregnant, the Listeria bacteria can be passed onto her baby, causing miscarriage and even stillbirth. Symptoms include fever, headache, muscle soreness, and even confusion, loss of balance and convulsions, according to the CDC.
Because of the dangers of listeria, don't take any chances by consuming the recalled bars. If you have any boxes of these Nutrisystem bars, throw them away immediately or take them back to ShopRite or Hannaford for a full refund. More than 20 customers who bought the potentially contaminated bars on either Amazon.com or Walmart.com have been notified about the recall, according to Nutrisystem.
The company has a toll-free hotline for concerned customers at 1-866-293-8118, which is open and ready to take calls seven days a week.
The good news is that, as of yet, no illness has been reported as a result of consuming the Nutricrush bars.