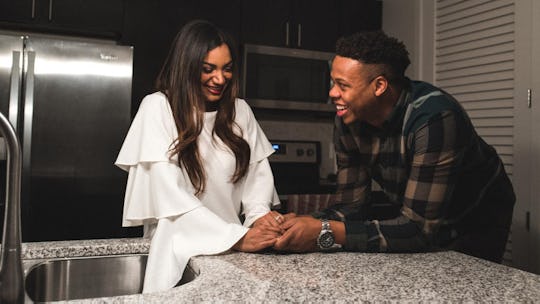 Valerie Chiang/Lifetime
One 'Married at First Sight' Couple Is Possibly Headed For Divorce
Each season on Married at First Sight, three couples are matched and then meet for the first time on their wedding day. The series follows the couples for two months to see if things work out, and they want to remain married. This season, some couples have formed a strong bond, but there is one couple who's been facing challenges from the start. So, who is getting divorced on Married at First Sight?
Mia Bally and Tristan Thompson's marriage began with major drama, and according to People, Mia has filed for divorce. Soon after they were married, when the couple set off for their honeymoon, Mia was arrested at the airport on charges of stalking and credit card fraud. The incident came as a huge shock to Tristan, and he's had trust issues with Mia ever since.
The charges against Mia were filed by an ex-boyfriend who claimed Mia allegedly stalked him and used his credit card without authorization, Newsweek reported. But Mia insisted that the whole thing was a misunderstanding. On the show, Tristan tried to move past the arrest, but was disappointed again when a friend revealed that Mia still had an active profile on a dating app. Still, with the help of their marriage counselor, Dr. Jessica, the two tried to keep their marriage together and make things work.
But in a sneak peak of the latest episode, People revealed that because Mia had cold feet about moving to Houston with Tristan, he asked her to move out. "He basically gave me an ultimatum that I needed to go to Houston or I can't stay here in our home," Mia said. "He started packing up my stuff and literally threw me out like it was nothing."
In the clip, Tristan explained that he was "drained" from the lack of communication and constant fights between them, adding that her hesitation to move to Houston brought him to a breaking point. "If she really had cold feet about Houston, then she never was really, fully committed," said Tristan. "I didn't say the marriage was over. I just said, 'Just go to your condo, if that's what you want to do.' Don't say you don't want to go to Houston and want to stay in my house. Tonight, I'm going to sleep here without my wife."
After putting Mia's things in the hallway, and shutting the door, Tristan didn't say they were getting a divorce, but Mia took his words to mean a turn in their marriage. "It's just sad that something so small, he's already just put my stuff out," she said. "This clearly just changed everything." And that change could be the catapult that pushed Mia to seek an official end to their relationship. According to People, she filed for divorce from Tristan on Sept. 4.
So far, the other two couples from Married at First Sight — Danielle and Bobby and Amber and Dave — seem to be doing fine. On the show, the couples have had a few challenges here and there, but seem to be working things through productively with the help of the show's marriage experts.
Despite the unconventional weddings, a number of couples from past seasons of Married at First Sight have remained happily married. But as with any marriage or relationship, sometimes there are issues that just never get fully resolved. Either way, fans are wishing Mia and Tristan the best, with hope that they eventually find the love and happiness they were looking for.
Married at First Sight airs on Tuesdays, at 9 p.m. ET on Lifetime.