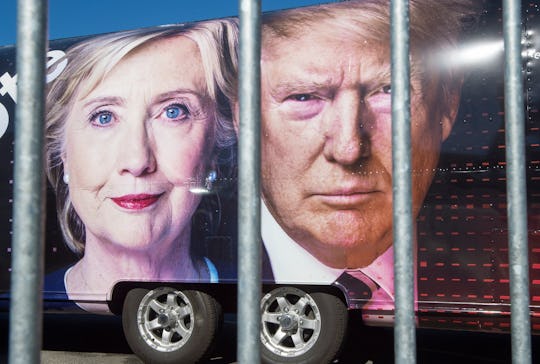 PAUL J. RICHARDS/AFP/Getty Images
Which Presidential Debate Will Cover Abortion? It's Not Exactly Clear
Republican party presidential nominee Donald Trump and Democratic party nominee Hillary Clinton differ in a lot of areas. Their stances on hot button issues like abortion need a stage like a presidential debate to really showcase those differences. But which presidential debate will cover abortion — or will it be covered at all?
On Monday, Clinton and Trump will take the stage at Hofstra University in New York, and will face off against one another in an official debate for the first time. It will definitely be worth watching as it will be the first time the candidates can question each other about their respective claims on live television, with no PR or campaign buffer to soften the blow. The topics announced for the first debate — America's Direction, America's Prosperity, and Securing America — seem broader than ever and not the kind of topics pressing the issues of the American people are clamoring for most; With such a wide span, it is hard to know what kind of questions will be asked under each of the aforementioned topics and whether specific social issues will even be brought up during Monday night's debate.
But if abortion is not brought up on Monday night, which presidential debate of the 2016 calendar will cover the topic of women's health care and abortion? It is not exactly clear.
There will be two more presidential debates after Monday night — one on Oct. 9 and another on Oct. 19. The vice presidential debate will take place on Oct. 4. While the moderator will choose the topics for the majority of the debates, for the second presidential debate, questions will be posed by citizen participants and the moderator, "based on topics of broad public interest." According to The Hill, Facebook will help source questions for this second debate but there are no guarantees which questions from Facebook will make it on air.
This could definitely mean that women's health issues and abortion could arguably be debated — which is crucial, because there is nothing more important than women knowing whether their health is being protected and being able to ask the two candidates about their respective game-plans going forward.
Abortion has been covered at most of the debates in recent history. During the 2012 vice presidential debate, Democratic vice presidential candidate Joe Biden and Republican vice presidential candidate Paul Ryan notably discussed their views on abortion during their debate. This topic gave important insight into each campaign and how important protecting women's reproductive rights was to them.
This time around, Hillary Clinton has readily come out in support of women's health rights and Planned Parenthood while Donald Trump has given conflicting statements and once said that women "should be punished" for having abortions. If abortion is discussed at a debate, it can finally give Donald Trump the opportunity to deliver a clear answer on where he stands specifically, and whether his views have changed since his "punishment" response.
While topics for the next three debates have not been announced, voters are hopeful that at least one of the next debates press the candidates on the topic of women's health and reproductive rights. Every woman deserves the right to choose, as well as a president who will speak out in their defense and work hard to ensure that right remains.