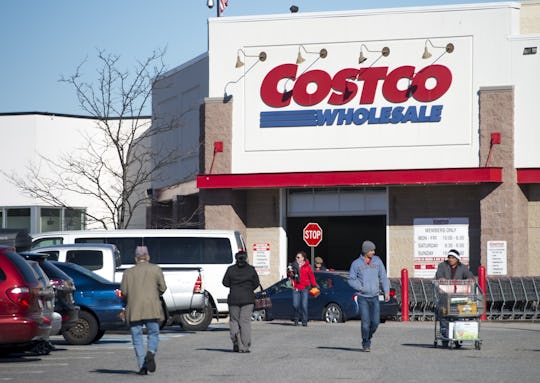 SAUL LOEB/AFP/Getty Images
Which Products Were Affected By The Costco Recall? Make Sure To Check Your Freezer
If you are a card-carrying member of Costco, listen up: You may need to check your freezer to see if any of the products you bought on your recent grocery trip are part of the company's most recent recall. A large food distributor has issued a massive recall this week, as reported by Fortune. CRF Frozen Foods, a major Costco supplier, recalled the products after tests showed possible traces of Listeria monocytogenes. So which products specifically were affected by the Costco recall, and how do you know which ones to toss?
According to the FDA, which issued a warning this week, CRF is voluntarily recalling 15 different frozen vegetable products that may have been contaminated, many of which have been sold to Costco, BJ's, Meijer, and other popular retailers spanning at least 35 states and four Canadian provinces. If you buy your frozen veggies at one of these retailers, you may want to check your freezer to see if you own one of the aforementioned frozen food products.
The Pasco, Washington-based CRF caught the problem early, as no illnesses have been reported just yet. The recall notice released by the U.S. Food and Drug Administration said listeria was found during routine tests performed by Ohio-state health officials. The Listeria monocytogenes were present in two different CRF's Individually Quick Frozen products: one lot of organic petite green peas and one lot of organic white sweet corn.
According to the FDA, four different frozen food brands were recalled because of the contamination scare. Brands included in the recall are Schwan's, Wellsley Farms Organic, True Goodness by Meijer, Organic by Nature. Each of the recalled items include either peas or corn from those two contaminated lots. The two vegetables were either sold individually or in packages of mixed vegetables and vegetable medleys.
Tainted products were distributed to retailers between September 13, 2015 and March 16, 2016. The packages weigh anywhere between 10 ounces to five pounds and have use-by date stamps located on the back of the package ranging from February 10, 2017 to March 16, 2018.
Listeria is an infection caused by the bacterium Listeria monocytogenes, potentially discovered in the recalled products. It is pretty serious, especially for pregnant women, infants, older adults, those with weaker immune systems. Initial symptoms include fever, muscle aches, diarrhea and other gastrointestinal issues. But, if the infection is "invasive" — meaning that it spreads beyond the gastrointestinal tract — and gets into the nervous system, someone could develop a headache, stiff neck, confusion, and (scariest of all) convulsions. Listeria infection during pregnancy can lead to miscarriage, stillbirth, premature delivery, or a life-threatening infection, like meningitis, in the newborn.
The recall news comes on the heels of another major Costco food recall in Canada. Last week, the Canadian Food Inspection Agency recalled a frozen berry mix sold at the retailer due to possible hepatitis A contamination. In this case, the items did result reported illnesses.
"There have been associated with the consumption of this product," the CFIA recall said. According to the Public Health Agency of Canada, there have been 12 cases of hepatitis A in three different provinces linked to the Nature's Touch Organic Berry Cherry Blend this year. While not linked to permanent liver damage, eating hepatitis A-contaminated food can still cause infection and liver inflammation with symptoms like fever, muscle aches, nausea, vomiting, diarrhea, and jaundice that last a week or two (but can last up to six months).
Costco's response to both product recalls has been quick and decisive. The big box store is offering free hepatitis A vaccines to anyone who may have consumed some of the recalled frozen berries. Costco has also been calling customers who have purchased any of the recalled items (they keep a buying history for all club members).
In other words, while Listeria and hepatitis A are both scary illnesses, so long as you double (or triple) check the items in your freezer, you should be just fine.