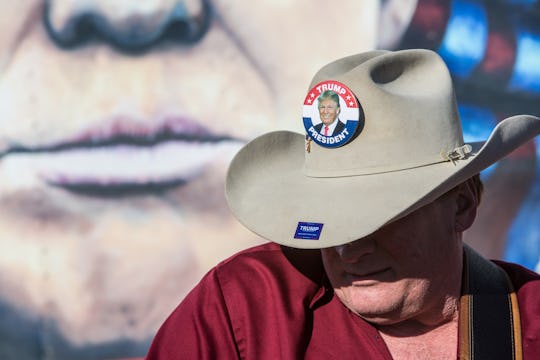 Brendan Hoffman/Getty Images
Which Republican Is Predicted To Win Iowa? Bing Has Picked A Victor, But The Candidate Still Might Not Make It To The White House
The Iowa Caucuses are just around the corner, and political pundits, news outlets, and even search engines are throwing out their predictions. With so much speculation surrounding the event, it's hard to know which sources to trust. Polls show that voters are particularly split among the candidates in the packed GOP field overall, but which Republican is predicted to win Iowa?
Microsoft's Bing may not be the current reigning search engine, but it's definitely good at one thing: predictions. Bing synthesizes data from polls, search data, opinion pieces, and more to generate its results. If you need some convincing, Wired reported that it predicted "34 out of 35 Senate races, 419 of 435 House races, and 33 of 36 gubernatorial races" in 2014. The outlet wrote that Bing Predicts has also "correctly predicted the winners of everything from American Idol to last year's Super Bowl."
So, according to Bing, who is going to win Iowa? Brace yourselves: As of now, the search engine is predicting that real estate mogul Donald Trump will be the eventual victor.
It could be argued that perhaps an algorithm doesn't understand how repugnant Donald Trump is to some humans, so the results can't be accurate, but even the latest polls back up the prediction. Despite boycotting the next Fox News Debate, Trump still leads in every state, including Iowa. And while some believe Ted Cruz has a chance, others in the GOP are simply in denial that a Trump victory is in the cards.
If there's anything to be said of this, it's that predictions are just that: guesses. Politics is a fickle game and the candidates themselves know this. Caucus season has a tendency to turn on a dime at the most unexpected moments, and by the time the general elections roll around, the American electorate could be casting its ballot for a totally different face than everyone expected.
"Here is the funny thing about presidential elections, especially with funding restrictions blown apart: It is not all about Iowa and New Hampshire," wrote Peter Fenn, Democratic political strategist and head of media firm Fenn Communications, in a column for U.S. News last September. "In the entire month of February, there are four contests – those two states plus South Carolina and Nevada. That's four states in four weeks ... This is a long game, and we are just getting out of the gate."
Still, when Jan. 24 rolls around and Iowans head to their caucuses, it will take until the numbers start rolling in for a more accurate picture of this presidential race to begin taking shape.