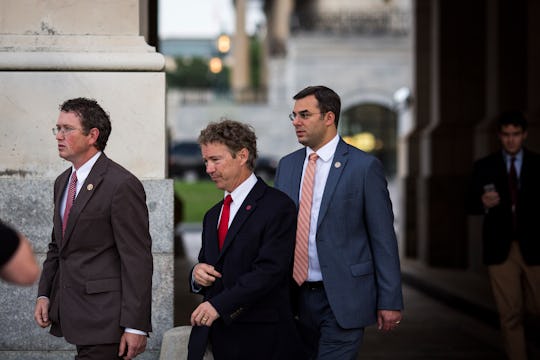 Drew Angerer/Getty Images News/Getty Images
These Republicans Are Giving Trumpcare A Side-Eye
Former President Barack Obama's namesake legacy may be gone before you know it. On Monday, House Republicans officially unveiled their own version of a replacement health care bill, to a divided response. And while most Democrats are widely opposed to the new proposed legislation, they aren't alone. Several Republicans, and even some conservative organizations, are not in favor of the Affordable Care Act replacement plan. But which Republicans are against "Trumpcare?" A few of the names on the list might surprise you.
Many criticized Republicans for attempting to rewrite a holistic healthcare bill in such a short amount of time, and claimed they were just trying to do away with Obama's hard work. Now that it's officially been released to the public, even some notable Republicans aren't on board. Whether they don't really think that it's that much of a change from Obamacare, or they argue that it goes too far in stopping coverage for millions of Americans, not all of the congressional conservatives on the Hill are in favor of the new "Trumpcare." And while Trump himself has praised the bill, the absence of support from all Republicans speaks volumes as to how divided the political sphere in our nation currently is.
So far, the Republicans who have spoken out against the new bill are Rep. Jim Jordan (Ohio), Dave Brat (Virginia), and Rep. Justin Amash (Michigan). According to Politico, Jordan called the legislation, "Obamacare by a different form. They're still keeping the taxes in place and Medicaid expansion, and they're starting a new entitlement."
Another large group of Republicans opposed to the bill? The Republican Study Committee. North Carolina Rep. Mark Walker, who heads the RSC, told Bloomberg in a statement that he "recommend[s] that his fellow members reject the plan, too," according to Fox News. And even if not all members of the RSC choose to reject the bill, they aren't the only Republicans standing their ground.
The proposed bill would defund Planned Parenthood for one year, make major cuts to Medicaid, would give a tax break to insurance companies who give their CEP's salaries of over $500,000 per year, and likely won't be able to cover the same large amounts of Americans that the Affordable Care Act covers.
Freedom Works, a "grassroots service center dedicated to helping activists fight for lower taxes, less government, and more freedom," has denounced the new Obamacare replacement bill, saying that, "there are several concerns with the bill that have to be addressed, otherwise, this bill will be ObamaCare-lite." Other Conservative organizations, such as Heritage and Club for Growth standing strong against the legislation, with the latter calling it, "Ryan-Care," referring to Speaker of the House, Paul Ryan.
Clearly, the new bill isn't widely appreciated or approved of. Democrats and Republicans alike are continuously divided over the new legislation, and with votes expected to place as soon as this week, it's clear that the health and security of our country's citizens may not be in good hands.