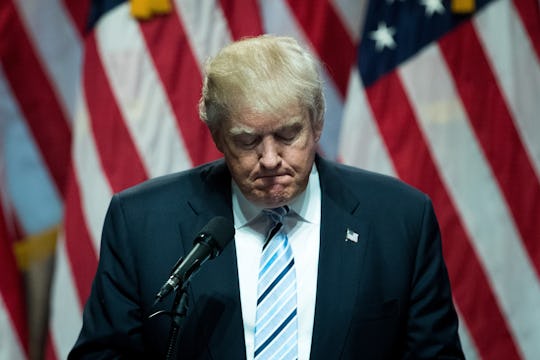 Drew Angerer/Getty Images News/Getty Images
Which Republicans Are Boycotting The Republican National Convention? A Lot Of Big Names
The 100th Republican National Convention — the Who's Who of the Republican Party — kicks off Monday, as all eyes are turned to Cleveland, Ohio, and billionaire Donald Trump's presumptive nomination to the Republican presidential ticket. While this year's RNC has generated both excited buzz and passionate protests, there are several important figures in the Republican establishment who have no plans to hop aboard the Trump Train. Which Republicans are boycotting the Republican National Convention? Turns out, a lot of very important and influential Republicans have decided to stay home this week rather than show their support for Trump or Trump's recent Vice President pick, Indiana Gov. Mike Pence.
While some very big names in the GOP are missing from this year's attendance roster, some of them actually have legitimate reasons for not attending this year's RNC. On Friday, news broke that Texas Gov. Greg Abbot was recovering from severe burns sustained while on vacation. Others, like Washington Rep. Cathy McMorris Rodgers — the highest-ranking female Republican in the House — will be in her home state attending a memorial service for "close friends," according to her campaign manager.
But there are plenty of other key GOP players who would literally rather "watch a dumpster fire" with their kids than support Trump at the RNC — let's take a look at a few of them, shall we?
Sitting Governors Sitting Out
While governors like New Jersey's Chris Christie and Wisconsin's Scott Walker are scheduled to speak at the Republican National Convention, there are six current governors who won't be in Cleveland this week. Most notable of all is Ohio Gov. John Kasich — the only GOP presidential candidate who refuses to endorse Trump for president. Not only that, but he's also the governor of the state where the RNC is being held. Ouch. Other governors sitting this RNC out include Illinois Gov. Bruce Rauner, Maryland Gov. Larry Hogan, Massachusetts Gov. Charlie Baker, Nevada Gov. Brian Sandoval, and South Carolina Gov. Nikki Haley.
No Love From The Bush Family
It's no surprise that former Florida Gov. Jeb Bush wouldn't support Trump at the RNC, given their bitter rivalry during the presidential primaries — remember that whole "low-energy Bush" nonsense from Trump? Yeah, Jeb's not forgotten that either. But in a startling announcement back in May, former U.S. Presidents George W. Bush and his father, George H.W. Bush, said they would be skipping this year's convention. Additionally, these father-son presidents said they would not endorse Trump.
Sarah "It's Just Too Far" Palin
She could see Russia from her house, but Cleveland is apparently "too far" for former Alaska Gov. and failed 2008 Republican VP pick Sarah Palin, at least, according to Trump. Palin herself has not spoken about why she won't be at the convention. But when Palin's name was conspicuously absent from a partial list of RNC speakers, Trump said in an interview with The Washington Examiner last Thursday that Alaska is "a long ways away" and the trek would be too difficult. This doesn't sound made up at all. Nope, not at all.
Because Watching A Dumpster Fire Is A Better Use Of Their Time
Trump has certainly been a polarizing figuring within the GOP — so much so that a few Republicans have completely stopped giving a f*ck when it comes to voicing their opinions about the presumptive nominee. Nebraska Sen. Ben Sasse said in a statement he would not attend the convention and "will instead take his kids to watch some dumpster fires across the state, all of which enjoy more popularity than the current front-runners." (Item to add to my bucket list: Give Sasse a high five and a hug.) Arizona Sen. Jeff Flake won't be in Cleveland because he has to mow his lawn while Florida Rep. Mario Diaz-Balart said he'll be getting his hair done — and yes, these are real statements by actual elected officials.
While this year's Republican National Convention could be a memorable one indeed, Trump's presumptive nomination as the Republican presidential candidate is one moment that several key GOP figures would rather forget.