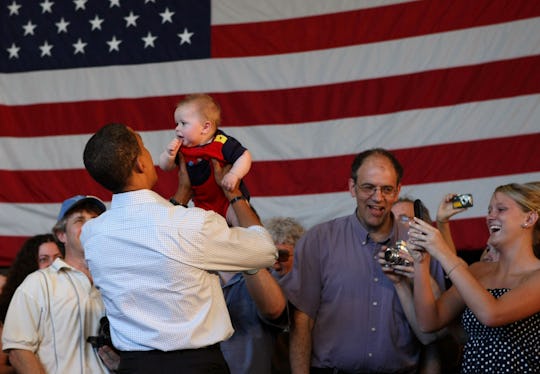 Justin Sullivan/Getty Images News/Getty Images
Which Republicans Voted 'No' On The Babies Act? There Were Quite A Few
It's always strange when a seemingly benign law is set to pass in Congress (the place where bills usually go to die these days) and lawmakers vote against it. Like the Republicans that voted "no" on the Babies Act, a law that mandates the installation of diaper changing stations in men's restrooms in public buildings, so that families can send either mom or dad to do diaper duty. On the surface, it sounds like one of those laws that transcends politics. Making it easier to change a dirty diaper really benefits everyone, parents or not, since nothing is worse than a baby bawling because it's uncomfortable.
So why would anyone vote against giving families an option when it comes to keeping their infant clean, fresh as a daisy, and most importantly, quiet? That's something voters should ask the 34 Republicans that vetoed the passing of the bill. Luckily, the lack of common sense didn't stand in the way of the bill becoming a law; President Obama signed the Babies Act, or the Bathrooms Accessible in Every Situation Act, into law last week.
The bill is pretty straightforward and actually, isn't all that inclusive. It only mandates that bathrooms corresponding to any gender in public buildings have a changing table. But public buildings just means federal buildings and if there's already a unisex, family, or handicap bathroom with a changing table on the same floor, they don't have to install one in the men's room.
So it's a great law, but it's not like the Democrat sponsors of the bill were trying to mandate that pricey (perhaps) changing stations go up in each and every bathroom, private or public. Which is probably just why the 34 Republicans who against the bill were worried about the precedent installing changing stations in federal buildings would set for the private sector. Just think, if states start installing changing stations in public building, every fast food chain or big box retailer would have to spend hard earned revenues on installing "physically safe, sanitary, and appropriate" stations as the act states, in their bathrooms.
Already, though, some retailers like Target have started doing just that — just because.
The horror! If you want to check and see if your representative was for or against the passing of baby changing stations, or registered a "Not Voting" tally, there's a full list of them you can double check over on the House website as well, but the 34 "Nay" votes can be found below:
Rep. Justin Amash (R-Michigan); Rep. Dave Brat (R-Virginia); Rep. Jason Chaffetz (R-Utah); Rep. Jeff Duncan (R-South Carolina); Rep. Blake Farenthold (R-Texas); Rep. Jody Hice (R-Georgia); Rep. Mick Mulvaney (R-South Carolina)
Rep. Mo Brooks (R-Alabama); Rep. Michael Burgess (R-Texas); Rep. Curt Clawson (R-Florida); Rep. Doug Collins (R-Georgia); Rep. Bob Gibbs (R-Ohio); Rep. Paul Gosar (R-Arizona)
Rep. Morgan Griffith (R-Virginia); Rep. Glenn Grothman (R-Wisconsin); Rep. Andy Harris (R-Maryland); Rep. Tim Huelskamp (R-Kansas); Rep. Walter B. Jones Jr. (R-North Carolina); Rep. Todd Rokita (R-Indiana)
Rep. Barry Loudermilk (R-Georgia); Rep. Cynthia Lummis (R-Wyoming); Rep. Thomas Massie (R-Kentucky); Rep. Tom McClintock (R-California); Rep. Scott Perry (R-Pennsylvania); Rep. Dana Rohrabacher (R-California); Rep. Matt Salmon (R-Arizona)
Rep. Mark Sanford (R-South Carolina); Rep. Marlin Stutzman (R-Indiana); Rep. Mac Thornberry (R-Texas); Rep. Randy Weber (R-Texas); Rep. Lynn Westmoreland (R-Georgia); Rep. Ted Yoho (R-Florida); Rep. Donald Young (R-Alaska); Rep. Ryan Zinke (R-Montana)
The initial sponsor of the bill, Rhode Island Rep. David N. Cicilline, said in a statement on his website that "federal buildings are paid for by taxpayers and it's important to ensure that they are as open, as accessible, and as family-friendly as possible." Cicilline, a Democrat, wrote, "with this new law now in effect, Social Security offices, Post Office buildings, and courthouses will be more accommodating for working moms and dads in Rhode Island and across the country."
So, for now, it's just public buildings, whether 34 Republicans like it or not. Hopefully, they'll come around once they have to lend someone in their family hand, or even just sit behind a dad and an infant that needs to be changed pronto in line at Walmart. It's funny what a dirty diaper can do to change your mind.