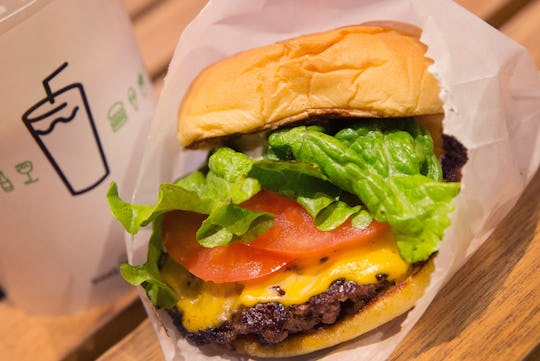 Scott Olson/Getty Images News/Getty Images
Which Restaurants Are Offering Deals For Kids On National Cheeseburger Day?
Hello, America! If you didn't know, now you do: Sunday, Sept. 18, is National Cheeseburger Day, and that means it's really time to reconsider those dinner plans if they included anything other than a juicy burger. Well, maybe trading in that grilled chicken salad or lasagna for a greasy cheeseburger isn't the wisest choice health-wise, but it's definitely the best decision for your tastebuds, your patriotism, and your wallet — because burger joints across the country are celebrating with some seriously yummy specials and promotions. And it could be great for family bonding, too, because pretty much all of these restaurants offering deals for National Cheeseburger Day are kid-friendly and sure to enhance the family dining experience on this most emblematic of American holidays.
Perhaps the best part of National Cheeseburger Day is its universal appeal. That's likely why favorites like Dog Haus, Shake Shack, and Ruby Tuesday aren't targeting their specials for the day to any one demographic, but are rather taking a come one, come all approach. One notable (and slightly nauseating) exception is Fuddruckers, which is hosting its notorious "3-Pound Burger Challenge." The chain is inviting those with very, very strong stomachs to down its huge burger and a 1-pound side of fries in an hour to win two free meals and bragging rights.
I don't know many young kids who are up for that, but, hey, it's 2016. For deals the whole family can eat and enjoy look no further:
Dog Haus
Those opting for a cheeseburger in lieu of a hot dog at this chain can make it a double at no extra cost, according to Time. That's a value of $1.99, and obliterates all excuses for being the square who ordered the smallest burger on the menu. Even kids are better off going big on National Cheeseburger Day.
Shake Shack via Delta
Yes, you read that right. Passengers on select Delta fights from JFK to LAX Sunday are enjoying Shake Shake burgers in-flight courtesy of the airline. What's more, those same lucky customers are get vouchers for a free ShackBurger at the LA West Hollywood Shake Shack. If only we had this perk on all flights, every day of the year to calm fussy young flyers.
Black Angus Steakhouse
Black Angus Steakhouse boasts both a Steakhouse Bacon Cheeseburger and a Guacamole Burger on its menu, and, in honor of this momentous holiday, is offering those as well as all its other entrees for the special price of $8.99 until Sept. 19, according to CNBC.
BurgerFi
$5 burgers, holla!
Ruby Tuesday
Free burgers are on the horizon at Ruby Tuesday Sunday, as long as customers buy one adult entree, the burger is less than a $10 value, and they're signed up for the restaurant's SoConnected email club.
Whatever you do, however many cheeseburgers you consume, be sure to document it on social media using the hashtag #NationalCheeseburgerDay. That way, we can truly all revel in the deliciousness.