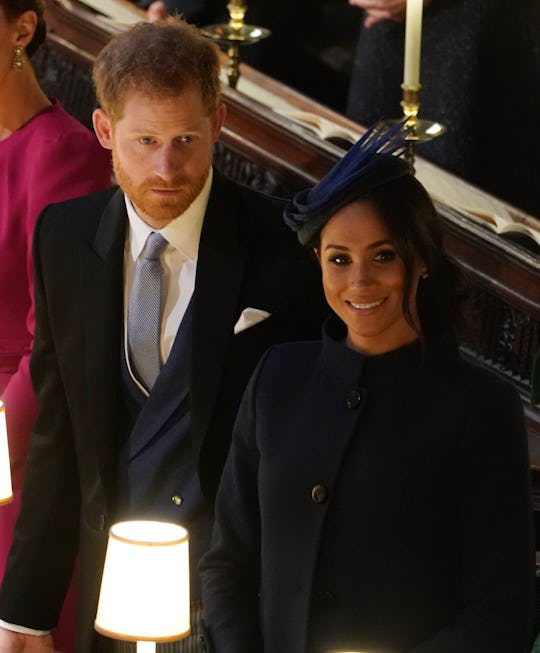 WPA Pool/Getty Images Entertainment/Getty Images
Will Meghan Markle and Prince Harry Follow Tradition With A Baby On The Way?
The announcement heard around the world today, that Prince Harry and Meghan Markle, Duke and Duchess of Sussex, are having their first child, has the British press (and outlets around the world) working overtime. But which royal baby traditions will Meghan and Harry follow... and which will they break?
It's a great question for the royal newlyweds, especially when you consider that they aren't expected to take to the throne probably, well, ever, with Harry being Prince William's younger brother, who himself is now the father of three royal heirs, as Elle magazine reported.
And with Meghan and Harry's baby seventh in line to rule, according to Elle, doesn't it seem like they can breathe just a tad easily on all the royal protocol? The answer is yes, and no.
The couple, who arrived in Australia this morning for a 16-day tour, according to the U.K. newspaper Express, have confirmed the newest royal baby will arrive in the spring.
Although they are indeed very modern royals, Meghan and Harry are expected to do at least a couple things by the book, and one of them is in picking a baby name. British bookies, who deal with odds for a living, have placed their bets on a traditional, family name for the new baby. Choices for a girl name include Alice or Victoria; for a boy, Philip (the baby's great-grandpa's name) or Frederick, according to the Telegraph newpaper.
Another strict royal tradition? No baby showers! After all, a couple who can buy anything and everything they need wouldn't exactly need a baby shower, ABC News royals expert Victoria Arbiter told Britain's Mirror newspaper. "They are clearly very wealthy, and a lavish baby shower would be seen as highly inappropriate," she noted. However, although it has never been proven, it is thought that privately, Pippa Middleton did throw a small shower for Kate when she was pregnant with Prince George, the Mirror added.
And with People reporting that Markle has already had a 12-week ultrasound, a sign that all is well, it will be time soon enough for the adorable couple to consider their birthing options.
While Queen Elizabeth followed royal tradition by giving birth at home, royal moms since Princess Diana have happily given up that tradition in favor of a hospital birth, as the Express detailed. The Lindo Wing of London's St. Mary's Hospital is where Kate had all three of her babies, the paper added, so surely that will also be the preferred delivery destination for Meghan and Harry.
One antiquated tradition that probably will survive this round of royal babies? Announcing the baby's birth on a fancy, antique easel outside Buckingham Palace instead of on the Internet, according to the Mirror. After all, this was just done months ago when the Duchess of Cambridge, gave birth to Prince Louis. This is so analog, I kind of dig it, don't you?
And while Meghan and Harry have already broken one tradition by criss-crossing the world while pregnant, one thing not previously covered is the idea of a monarchy maternity entourage: Markle's best friend, celebrity stylist Jessica Mulroney, is said to be along for support as Markle tours Australia, at least according to Town & Country. The stylist hinted at a big news reveal on her Instagram recently, and her husband, Ben, the son of Canada's former Prime Minister, is said to be along for ride on the royal tour as well.
It sure will be fun to watch this pregancy develop and see how these two super-modern royals adjust to family life. Interestingly, the Telegraph added that Meghan and Harry's baby could end up using "Sussex," the couple's title, as a last name while in school, just as Princess Eugenie has done in adopting "York" as her surname, and George, Charlotte, and Louis use "Cambridge." We shall see.