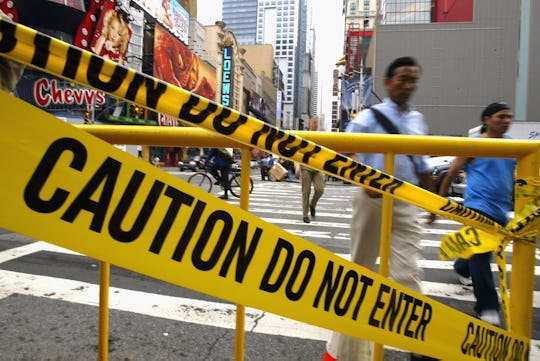 Spencer Platt/Getty Images News/Getty Images
Which Schools Are Closed After The Des Moines Shooting? Districts Have Released Statements
Two police officers in Iowa were fatally shot early Wednesday morning. The attacks, described as "ambush-style," involved the killing of two police officers representing both the Urbandale Police Department and the Des Moines Police Department. As the community is likely shaken from the tragic events, many parents may be wondering about potential school closures. So, which schools are closed after the Des Moines shooting? It's certainly troubling.
As BuzzFeed reported, police have named Scott Michael Greene, 46, as a suspect in the fatal shootings. Romper has reached out to the Urbandale Police Department regarding comment from a representative for Greene and has not yet received a response. According to a news release by the Urbandale Police Department, an Urbandale police officer was shot at approximately 1:06. a.m. A Des Moines police officer was then shot 20 minutes later, at a separate location. Both officers were shot in their vehicles, authorities reported.
The Urbandale School District — Urbandale is a surburb incorporated as a city outside of Des Moines — announced that all schools would be closed on Wednesday.
The district released the following statement, captured by local Des Moines KCCI 8 News:
All Urbandale Community School District schools, departments, offices are cancelled/closed today, Wednesday, November 2, 2016. There will be no Adventuretime and no school per the recommendations of Urbandale and Des Moines law enforcement. Staff are not to report to buildings.
As for Des Moines public schools, the district released a statement saying classes would not be canceled "because of the location" of the shootings:
...One of these tragic shootings took place near Urbandale High School and, because of the location of the investigation that is underway, the Urbandale school district has cancelled classes today...
...Superintendent Tom Ahart has been in contact with Des Moines police chief Dana Wingert. There is no need to cancel classes in Des Moines. Des Moines Public Schools will be in close contact with the Des Moines Police Department throughout the day, and will take any additional precautions if needed...
According to The Des Moines Register, a spokesperson for the Urbandale police department confirmed that the suspect, Greene, is now in custody.
BuzzFeed cited to a YouTube video (the YouTube account belongs to a "Scott Greene") in what appears to be Greene arguing with police officers who escorted him out of an event at the Urbandale High School. He reportedly held a Confederate flag in front of black people sitting in the stands of bleachers.
The Des Moines Register reported on Greene's past encounters with law enforcement. According to The Register, Greene was previously charged with a simple misdemeanor in 2014, when he reportedly resisted an attempt by officers to pat him down for weapons. According to another complaint, Greene was charged with first-degree harassment for allegedly calling a man the N-word, saying, "I will kill you..." The Register reported.
The Register reported that authorities are currently investigating whether the YouTube videos uploaded by "Scott Greene" are indeed tied to the suspect.