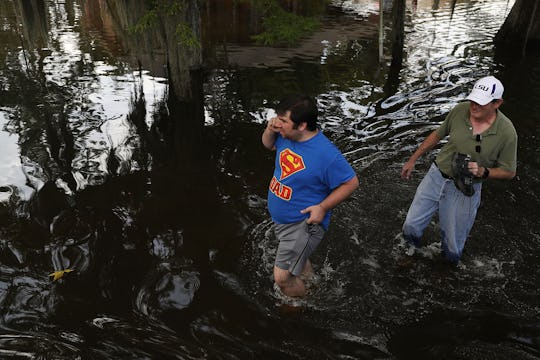 Joe Raedle/Getty Images News/Getty Images
Which Schools In Louisiana Are Closed From The Flood? Many Have No Opening Date
The Louisiana flood has made the start of the new school year a rocky one for schools across the flooded territory, The Times-Picayune reported. Water damage forced dozens of schools to close, keeping about 265,000 children home, which translates to nearly 30 percent of Louisiana students overall. Most were reopened by this week, but a handful of Louisiana schools are still closed by the flood. Originally, 24 out of 70 public school districts were closed, as well as private schools and day care centers.
According to local ABC affiliate WBRZ, Tangipahoa and Riverdale Christian Academy schools will reopen on Wednesday, but the following schools or districts remain closed until further notice: East Feliciana, Livingston, Cristo Rey, Kingdom Early Learning Center, Mentorship Academy, and Runnels School Harrell's Ferry Road campus. A full list can be found on WBRZ's website.
The Washington Post reported that additional bus routes are being coordinated so that students will receive transportation to their neighborhood schools even if they're staying elsewhere, but that's hard to do when the buses have been damaged by the flood. According to The Advocate, East Baton Rouge schools were slated to open on Wednesday, but are now closed until after Labor Day, due in part to a depleted bus fleet (in addition to mold damage in some schools).
But even districts where the schools and buses remained untouched are still affected; Louisiana State Superintendent of Education John White told the Post that an estimated 4,000 school staff members have been displaced by the flood, including teachers, bus drivers, cafeteria workers, and janitors. One district superintendent is currently living in an emergency shelter. Schools will be combined while the damage is repaired, and White said that "There is the facility and capacity in the region to serve all students," but teacher displacement is the more pressing issue. White also said that teachers are considered "essential personnel" by the Federal Emergency Management Agency, and are therefore given top priority for housing assistance.
Besides education, schools provide a sense of stability to kids, and for those who might be living in a hotel or a shelter, a place to eat a hot meal. But some students will be returning to school without the proper supplies after losing them in the flood. Several schools and other organizations are coordinating fundraising efforts in order to rebuild and drives to provide school supplies to students affected by the flood. The Times-Picayune has a list of ways to help Louisiana students. Once they're back in the classroom, their lives can start getting back to normal.