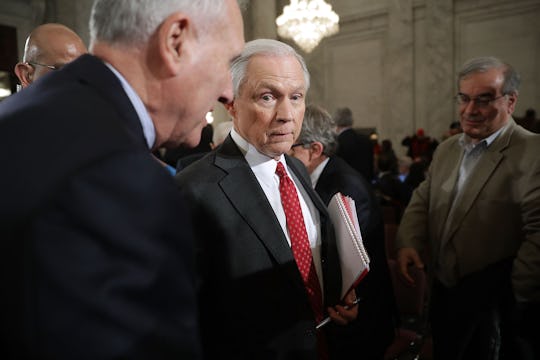 Chip Somodevilla/Getty Images News/Getty Images
These Senators Voted Against Jeff Sessions
On Wednesday, Alabama Sen. Jeff Sessions was confirmed as President Trump's attorney general, just barely squeaking by with 52 "yes" votes. No Republicans voted against Sessions, but plenty of Democrats were opposed to his nomination, and they stuck by their beliefs on the Senate floor. Americans both for and against Sessions' appointment are now wondering which senators voted against Sessions' confirmation, and why a full 47 senators choose to cast "no" votes.
Sessions only needed 51 votes in order to be confirmed, and he scraped through with an extra vote to spare. According to The New York Times, all Republican senators voted "yes" on Session's confirmation, and they were joined by only one Democrat, Sen. Joe Manchin from West Virginia. All other voting Democrats in the Senate voted against Sessions' appointment, and they were joined by Independent Sens. Angus King and Bernie Sanders. Democratic Sen. Tom Carper did not vote, and Sessions, of course, did not participate in the vote.
A full vote summary is available on the Senate website, with each senator's decision marked next to their name. Sessions' close confirmation came just days after Vice President Mike Pence had to cast a tie-breaking vote in Betsy DeVos' confirmation, marking the tension between the United States' two major parties widely apparent.
Sessions' nomination was especially contentious, for multiple reasons. In 1986, Sessions was blocked from a federal judgeship due to concerns about his views on race, according to The Guardian. At the time, a former civil rights attorney testified that Sessions had allegedly called several civil rights groups (such as the National Association for the Advancement of Colored People and the American Civil Liberties Union) un-American, and he reportedly made negative comments about a white lawyer taking on a voting rights case in Alabama. Sessions was also accused by at least one past colleague of using racist terms and being hostile to African-American coworkers. Sessions denied using any racist terms at the time.
More recently, Democrats were further enraged when the Senate voted to silence Sen. Elizabeth Warren on Tuesday, after she attempted to read a 1986 letter from Coretta Scott King (Martin Luther King Jr.'s wife) to the Senate. The letter outlined King's concerns about appointing Sessions to a federal judgeship, with King writing:
Mr. Sessions has used the awesome powers of his office in shabby attempt to intimidate and frighten elderly black voters. For this reprehensible conduct, he should not be rewarded with a federal judgeship.
Democratic efforts to block Sessions' confirmation, however, were unsuccessful. Those who would like to see how their senators voted on other confirmations can head to the Senate website and see full lists of senators' decisions by nomination.