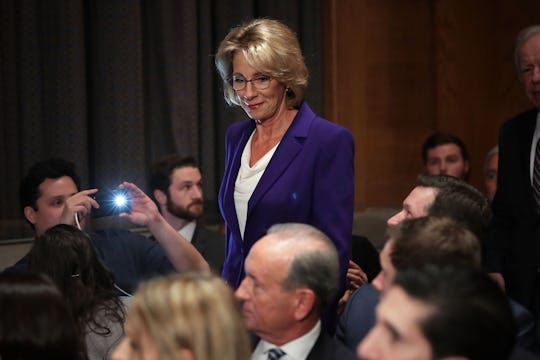 Chip Somodevilla/Getty Images News/Getty Images
These Senators Voted For Betsy DeVos
The most contentious vote thus far on President Donald Trump's Cabinet was finally cemented on Tuesday, concluding in an unprecedented, vice presidential tie-breaker. Trump's pick for education secretary was definitely polarizing, leaving many to wonder which senators had voted for Betsy DeVos in the end. As expected, every single Democratic and Independent senator voted against her, but they weren't alone; Two Republicans voiced their opposition to the pick, too. Regardless, the vote was largely a partisan one, with 50 Republican senators supporting DeVos' confirmation in the end.
Vice President Mike Pence cast the deciding vote for DeVos alongside those 50 Republicans, including John McCain, Marco Rubio, and Ted Cruz. The only Republicans who opposed DeVos were Sens. Susan Collins of Maine and Lisa Murkowski of Alaska. "I hope against hope that another Republican senator will have the courage of the senators from Alaska and Maine and join us," Senate Minority Leader Chuck Schumer stated on Tuesday morning, ahead of the vote. Schumer stressed, "The nominee is so unqualified — and now Americans now know that."
Both senators and constituents alike took issue with DeVos' inexperience. As The Washington Post summarized, "She has no professional experience in public schools, never attended public schools or sent her own children to public schools. She also has not held public office." In her education platform, DeVos advocates for school vouchers, allowing parents to put publicly provided funds towards charter, private, or magnet schools of their choosing. Her January confirmation hearing revealed severe ideological clashes with Senate Democrats, with the most viral soundbite being one about DeVos' stance on guns in school. Devos shared that, in some cases, she "would imagine that there's probably a gun in the school to protect from potential grizzlies" — referring to the potential for bear attacks on schools in wooded regions. Overall, many found her unfit for the job, and altogether unprepared to handle a $68 billion federal budget.
The 50 pro-DeVos voters, as compiled by Politico, are listed below:
Vice President Mike Pence, Steve Daines (Montana), John Thune (South Dakota), Ron Johnson (Wisconsin), Richard M. Burr (North Carolina), Jeff Sessions (Alabama), Roger Wicker (Mississippi), Roy Blunt (Missouri), Bob Corker (Tennessee), Michael B. Enzi (Wyoming), John Barrasso (Wyoming), Dean Heller (Nevada), Rob Portman (Ohio), Bill Cassidy (Louisiana), John McCain (Arizona), Richard C. Shelby (Alabama), Mike Lee (Utah), Ted Cruz (Texas) Dan Sullivan (Alaska), Cory Gardner (Colorado), and Rand Paul (Kentucky);
Deb Fischer (Nebraska), Lindsey Graham (South Carolina), James M. Inhofe (Oklahoma), Jim Risch (Idaho), James Lankford (Oklahoma), Jerry Moran (Kansas), Patrick J. Toomey (Pennsylvania), Joni Ernst (Iowa), Tom Cotton (Arkansas) Michael Rounds (South Dakota), Thad Cochran (Mississippi) Mitch McConnell (Kentucky), Michael D. Crapo (Idaho), John Hoeven (North Dakota), Pat Roberts (Kansas), and Shelley Moore Capito (West Virginia);
Orrin G. Hatch (Utah), John Kennedy (Louisiana) Thom Tillis (North Carolina), Todd Young (Indiana), Jeff Flake (Arizona), Tim Scott (South Carolina), Ben Sasse (Nebraska), Marco Rubio (Florida), David Perdue (Georgia), Johnny Isakson (Georgia), Charles E. Grassley (Iowa), John Cornyn (Texas), John Boozman (Arkansas), and Lamar Alexander (Tennessee)
In the days leading up to the vote, #StopDeVos and #NoOnDeVos were trending on Twitter. With such a slim margin between denial and confirmation, many were urging other users to call their Republican senators so as to keep DeVos far away from the role. Despite all these efforts, though, Trump's pick went through.
Plenty of Cabinet Senate confirmation votes still need to take place, but it's unlikely that any of those will come as close as this one did, roping in Republicans as opposition. It is likely, however, that Senate Democrats will keep fighting Trump's choices to round out his administration — for now, though, it seems DeVos has managed to slip through their grasp.