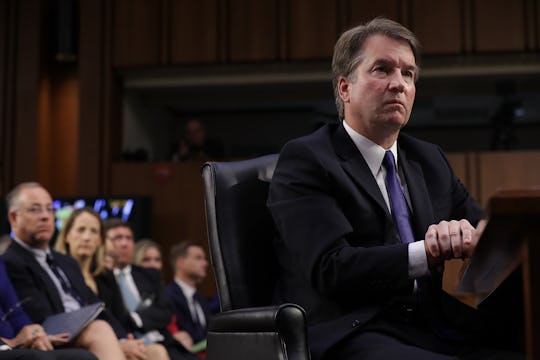 Chip Somodevilla/Getty Images News/Getty Images
These Are The Senators That Might NOT Be Voting For Trump's SCOTUS Pick
On Tuesday, Sept. 4, Judge Brett Kavanaugh will sit before the Senate for the first day of his confirmation hearings. This past July, President Donald Trump announced his nomination for Kavanaugh to become the next Supreme Court Justice. Beginning today, the Senate will decide whether or not they will confirm Trump's nom or not. It leaves many wondering: Which senators won't vote for Brett Kavanaugh? Right now, it seems as though alliances will fall along party lines.
CBS News reported that so far, Democrats are attempting to obtain and review records and documents from Kavanaugh's tenure in the Bush administration, in order to determine whether or not he is fit for the position. The news channel reported today that over 40,000 documents were handed to senators on Sept. 3, leaving insufficient time for thorough review and adequate analysis. Democratic senators Kamala Harris, Cory Booker, Amy Klobuchar, and Richard Blumenthal in particular have been raising their skepticisms about Kavanaugh's fitness for the position.
But as for which senators will and won't actually vote for Kavanaugh? It seems to be falling along party lines. Politico reported that many voters from both sides have been arguing that nominees should be confirmed based on their qualifications. At the time of the report, 66 percent of Republicans, 56 percent of Independents, and 41 percent of Democrats voted that Kavanaugh needs to be evaluated based on his applicable experience.
The New York Times reported that one of the hottest issues currently under debate is Kavanaugh's stance on women's reproductive health and abortion, and whether or not he will push to overturn the 1973 bill, Roe vs. Wade, which determined it was a constitutional right to have an abortion. Concerns have been raised based on the fact that Kavanaugh is a Republican, and seems to err toward more conservative views.
However, in the past, Kavanaugh has claimed that he governs with objectivity. "My judicial philosophy is straightforward. A judge must be independent and must interpret the law, not make the law," NBC reported Kavanaugh said. President Trump agreed with Kavanaugh's self-assessment, as Politico reported he said the following about Kavanaugh: "What matters is not a judge's political views but whether they can set aside those views to do what the law and the Constitution require. A judge must be independent and must interpret the law, not make the law."
However, reproductive health is not the only issue that has some people worried about Kavanaugh being confirmed. NPR reported last month that gun control is another issue on which Kavanaugh's intentions are unknown. "Kavanaugh believes in a very vigorous Second Amendment right to bear arms, and he thinks there is little room for constitutionally permissible gun control," UCLA law professor Adam Winkler told the network. "Kavanaugh's basically the roadblock to anything we want happening," Charlie Mirsky, the 18-year-old political director of March for Our Lives, also told the network. "We believe that if we got anything passed, he could declare it unconstitutional. He could just block anything we want from staying in place."
Though the hearings began today, it may take days or weeks for them to conclude. CBS reported that Democratic Senator Cory Booker called for an extension on the hearing, saying that the 40,000+ documents they have yet to review are crucial. "What are we hiding by not letting those documents come out?" he said, followed by requests to take a few "days or weeks" to have a complete review of his documents.
Many news sources such as the LA Times are consistently updating live coverage of the hearings, and as there is a long road to an official confirmation, much is yet to be seen on which way the votes will go.