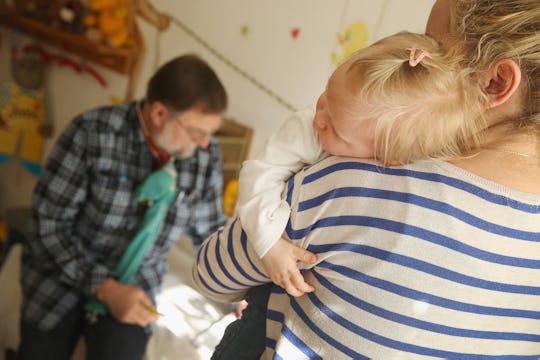 Sean Gallup/Getty Images News/Getty Images
What States Allow "Parental Choice" As A Vaccine Exemption?
Based on scientific evidence alone, whether you should vaccinate your child should not be fraught issue. But over the last decade or so, more and more parents have chosen to keep their kids from inoculation, largely based on faulty and disproved research. As extinct diseases start to make a comeback, states like California are making it harder for parents to opt-out. Still, advocates for vaccine choice have found strong supporters in many legislatures across the country. So which states allow parental choice as a vaccine exemption? Only 18 states grant parents the right to opt-out of vaccination because of personal, moral or other beliefs.
Vaccine exemption laws are actually nothing new. All 50 states have passed legislation that allow for exemptions from school immunizations for medical reasons, according to the National Conference of State Legislatures. And all but two states — Mississippi and West Virginia — have vaccination laws that grant parents an exemption from vaccinating their children on religious grounds. But as the anti-vaccination movement continues to grow, more states are introducing and passing legislation that grants parents the right to keep their children from receiving vaccinations on a philosophical basis — otherwise known as "parental choice."
Conversely, states are also introducing legislation that seeks to restrict or eliminate vaccination exemptions. In 2015, Vermont became the first state to repeal its personal belief exemption from school immunization. California followed after months later, passing Senate Bill No. 27, which removed vaccine exemptions based on personal beliefs.
A recent report released by the California Department of Public Health found an increase in fully vaccinated students after the law passed two years ago, according to Education Week. Less than 91 percent of kindergarten students were vaccinated during the 2014-2015 school year; that number jumped 5.2 percent in the 2016-2017 school year to 95.6 percent, the highest rate seen in more than a decade, Education Week reported.
Advocates for parental choice consider any restriction on vaccine exemption an attack on freedom. But public health officials consider immunization crucial to children's health and safety. In 2014, California saw a measles outbreak linked to an initial exposure at Disneyland that the state's Department of Public Health linked to a lack of vaccination against the disease. Other measles outbreaks have cropped up across the country since the U.S. Centers for Disease Control and Prevention declared the disease eliminated from the country in 2000. The CDC documented more than 660 measles cases from 27 states in the last 16 years.
Parental autonomy is important. But when it comes to preventing potentially life-threatening diseases, the greater good should win out. Children yet to be vaccinated should not be put at risk of contracting deadly diseases because one family chose to believe debunked science.