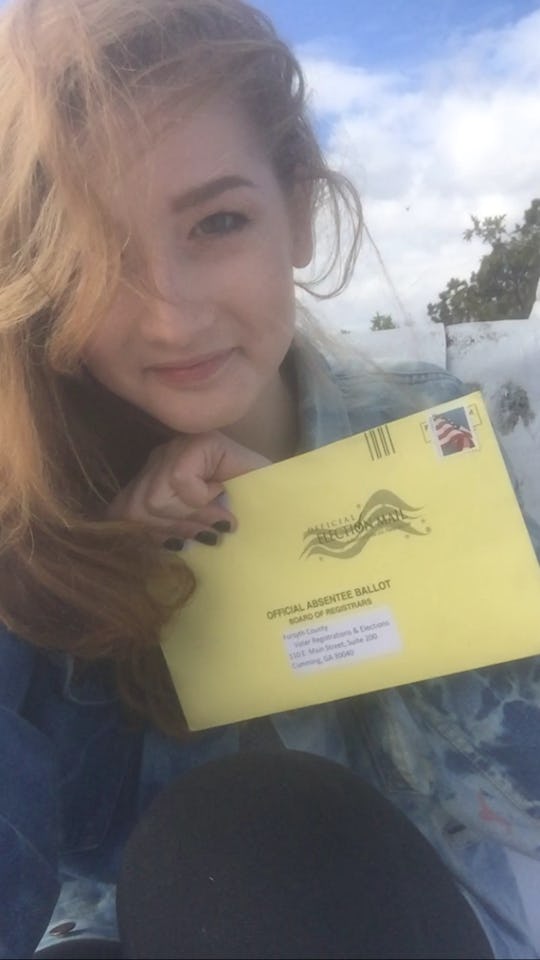 Courtesy of Cameron Norsworthy
Which States Allow You To Take A Selfie In The Voting Booth? Some Threaten Jail Time
Snapping a photo while casting your ballot could cost you — just ask Justin Timberlake. An early voter, Timberlake posted a photo of himself at the polling booth on Instagram this week in efforts to encourage his followers to exercise their right to vote. It's pretty clear, though, that he wasn't briefed on which states allow you to take a selfie in the voting booth. Timberlake's case is currently under review by the Shelby County District Attorney's Office in Memphis, Tennessee. According to CNN, "the misdemeanor crime of taking a photo inside a polling station is punishable by 30 days in jail and/or a $50 fine in Tennessee." Oops.
But this shouldn't squash all of your political selfie dreams! Twenty-one states (and Washington, D.C.) will let you Insta, Snap, and Tweet your "I voted!" humblebrags to your heart's content. Sixteen states, on the other hand, may punish you for doing so. In Timberlake's case, regarding his Tennessee selfies, Vox reported on Tuesday that "voters [are] prohibited from taking photos in polling place [and] photos of mail-in ballots are legally ambiguous."
For the remaining areas it's just unclear, as some states haven't explicitly addressed whether or not you can take a selfie while voting. Seeing as some states prohibit varying degrees of photography in or near polling places, and also have measures against any cellphone usage in voting booths for privacy reasons, one could deduce that selfies are thus illegal, even if the law doesn't explicitly prohibit them.
Reasons for banning voting booth selfies stem from the possibility that this could lead to people buying other peoples' votes and, thus, using selfies as "proof" of voting. On the other side, though, sharing selfies could encourage more voters — especially younger ones — to make moves and go vote.
Timberlake's Instagram caption definitely leaned toward the latter option, seeing as you couldn't see who he was voting for at all. A part of the "Rock the Vote" campaign, he captioned the photo:
Hey! You! Yeah, YOU! I just flew from LA to Memphis to #rockthevote !!! No excuses, my good people! There could be early voting in your town too. If not, November 8th! Choose to have a voice! If you don't, then we can't HEAR YOU! Get out and VOTE! #excerciseyourrighttovote
It's up to Shelby County to decide whether or not to make an example out of Timberlake. His focus was quite obviously on the lengths he was willing to travel in order to vote, showing fans and followers that there are "no excuses" while highlighting potential opportunities to vote early.
You can see if your state allows polling station selfies below. If not, it's totally possible that they could in the future, seeing as courts have recently overturned restrictions of this nature. And hey, if a selfie isn't possible, at the very least you can post a before-and-after image — whatever it takes for you to carve out the time to be heard.