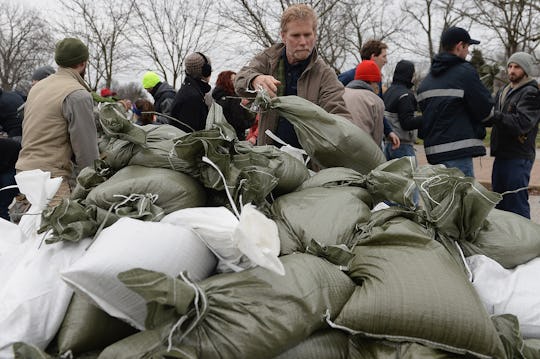 Getty Images
Which States Are Evacuating Due To "Historic" Flooding? Four Are Getting Hit Hard By Storms
Officials along the Mississippi River on Wednesday called for evacuations in Missouri due to "historic" flooding, according to CNN. It doesn't even have to rain anymore. And Missouri isn't the only state that's being evacuated. Which states are evacuating due to floods? Four are moving people away from the Mississippi River, which will reach between 14-15 feet over normal flood stage, meaning flooding is unavoidable. On Tuesday, the river flooded into West Alton, Missouri, and residents were evacuated late Tuesday.
There are currently 19 levees that are in danger of being breached in Missouri and Illinois, so people there are being evacuated. Due to extreme rainfall and flooding, people in Arkansas and Oklahoma have also been evacuated at the recommendation of the National Guard, according to CNN.
Missouri Governor Jay Nixon, who declared a state of emergency on Sunday, said in a release that safety is the first priority, according to KSDK:
Widespread flooding and continued rainfall are causing very dangerous conditions across much of central and southern Missouri. Multiple fatalities due to flash flooding have already been reported, and I urge Missourians in flood-affected areas to stay alert, avoid travel if possible and never drive into a flooded roadway. With more heavy rain expected tonight and tomorrow, state emergency management personnel will be working around the clock to keep Missourians safe.
Already there have been 13 deaths in Missouri, according to NBC. In Illinois and Arkansas, there have been a total of five deaths due to drowning. The excessive rainfall is partially the result of El Nino, according to the Weather Channel, which also caused tornadoes in Texas this weekend. Normally, the Midwest doesn't get rain like this in December — flooding is more common in spring after the snow starts to melt. In any case, right now the cause of the rainfall is less important than getting people out of affected areas safely over the next few days:
It's possible that flooding will continue into early next week, according to the National Weather Service. They are expecting the Mississippi River to crest at 49.7 feet on Friday. Already, the Meremac River will reach around 30 feet above flood stage late Wednesday afternoon, but officials are reportedly confident that the levees won't break, according to Fox News.
There are a total of 46 areas that could be affected, namely around where the Missouri and Mississippi Rivers meet but floods could also impact also eastern Oklahoma into southeastern Kansas, central Illinois and parts of Arkansas, Tennessee, and the Florida panhandle. Officials have also closed many roads, most notably Interstate 44, which runs from St. Louis to Texas.
According to reports, some towns are already in clean-up mode. Hopefully residents in other affected areas take the evacuation orders seriously. Residents in St. Louis were ordered to be out by 10 a.m. Wednesday morning.
Image: Michael B. Thomas/Getty Images; Giphy