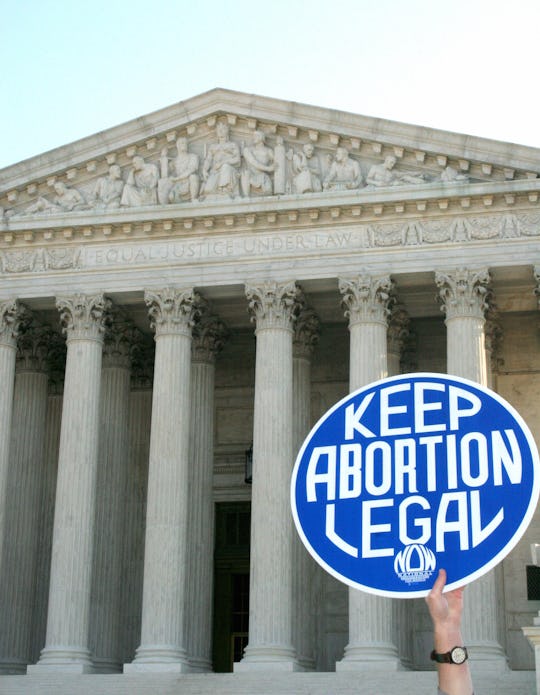 KAREN BLEIER/AFP/Getty Images
Which States Could Ban Abortion First If Roe v. Wade is Overturned? 11 States Are Ready
I'm literally begging the women of America to snap out of whatever funk is keeping you from seeing what's about to happen to our rights under a Trump administration. President-elect Trump himself, in his first interview after the election, doubled-down his campaign promise to fill Supreme Court vacancies with "pro-life" judges who would overturn Roe v. Wade. That would give states the freedom to ban abortions and restrict reproductive rights at-will. Which states could ban abortion first if Roe v. Wade is overturned? There are a few hard core conservative states that would likely be the first to limit access to abortion, but the end result could be a nationwide roll back in the access for all women to basic health care.
Trump sat down for a 60 Minutes interview and was asked directly by Lesley Stahl if he would appoint Supreme Court Justices who would overturn Roe v. Wade, the 1973 Supreme Court decision that upheld a woman's Constitutional right to abortion. Trump, despite his previous declarations that he was "very pro-choice" has campaigned on a staunch anti-abortion platform, even selecting Indiana Gov. Mike Pence as his running mate, a man who signed a law in his state requiring what amounted to funerals or formal cremations for aborted fetuses, according to Mother Jones.
But although Trump claims to be anti-abortion, the position he took on 60 Minutes was a bit confusing. He wants to make abortions illegal in some states, not others. But that's not how it works.
"They'll be pro-life, they'll be — in terms of the whole gun situation, we know the Second Amendment and everybody's talking about the Second Amendment and they're trying to dice it up and change it, they're going to be very pro-Second Amendment," Trump rambled, according to CBS News. "But having to do with abortion if it ever were overturned, it would go back to the states. So it would go back to the states and —"
Stahl responded, "Yeah, but then some women won't be able to get an abortion?"
Then Trump, almost just thinking the reality of the policy through in that moment said, "No, it'll go back to the states. Yeah, well, they'll perhaps have to go — they'll have to go to another state."
Yeah, ladies, you might have to leave your golden palace and take your helicopter to the airport and hop on your private jet and fly to a different state so you can access Constitutionally-protected health care. What's the big deal?
The reality of a man shrugging and waving off a decision that would affect the lives of millions of women and children is sickening and should be alarming to every woman in America, regardless of your personal feelings on abortion. Because it's not just abortions that are about to get real hard to access in the coming years if Roe is reversed.
According to NARAL Pro-Choice America, 11 states currently have criminal bans on abortion that would go into effect as soon as Roe is overturned. Four states have something called "trigger bans," which would criminalize abortions in their states as soon as Roe is overturned. Two states have both types of laws on the books, bringing the total number of states that would ban abortions as soon as the Supreme Court reverses Roe to 12: Alabama, Arizona, Arkansas, Delaware, Louisiana, Massachusetts, Mississippi, New Mexico, North Dakota, South Dakota, Oklahoma, and West Virginia, according to NARAL. But more states would surely follow.
That would mean women in these states who need an abortion would be forced to find a way to get to another state where abortions are legal, which Trump doesn't see as any big deal. But overturning Roe would also open up the possibility for a Republican-controlled Congress to pass a nationwide ban on abortion and a so-called "federal personhood bill," which would criminalize birth control methods like IUDs and the morning after pill, according to NARAL.
Trump's proposal to roll back reproductive rights isn't supported by the majority of Americans, according to Pew Research, which found that 56 percent of U.S. adults say abortion should be legal.
Trump isn't proposing a small change in the rights of American women — his anti-abortion Supreme Court appointments could ultimately have the effect of making abortion illegal in the United States and restricting women's rights to control their own reproductive health through birth control.
It's time for us to pay attention. Let's just hope it's not too late to save reproductive rights for our daughters.