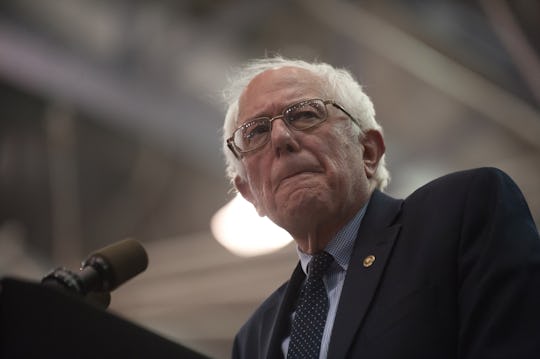 Jeff Swensen/Getty Images News/Getty Images
Which States Does Bernie Sanders Have To Win To Take The Nomination? All Of Them, Really
Although Vermont Sen. Bernie Sanders lost the New York primary on Tuesday, his campaign is still pledging to stick around until the convention in Philadelphia this summer. But which states does Sanders have to win to make a real grab for the nomination? There are 21 upcoming primaries left and the next one to watch is Pennsylvania. There are also primaries in Kentucky, West Virginia, and Indiana that should be interesting to watch, since nothing seems to be a given in this race. California would be a huge win for the candidate and Sanders is opening up a campaign office there, according to The Los Angeles Daily News, in an effort to make up for his loss in New York.
As of press time, Sanders has 1,151 pledged delegates and 38 super delegates to former Secretary of State Hillary Clinton's 1,428 pledged delegates and 502 super delegates. If you run the numbers as a Bernie supporter, the safest bet is to hope he wins all of the upcoming primaries to guarantee a fair shot for the nomination. Already, though, polls show that Clinton has a slight lead in most of the upcoming, big win states. Of course, those polls are early and as voting days in those states inch closer, the gap should tighten a bit. But Sanders needs to come out strong nonetheless.
His team is expecting to do just that. New York was a pretty big loss for senator, coming up with just 38 percent of the vote to Clinton's 58 percent (even though he managed to take the majority of New York counties overall). But Sanders was quick to reassure his supporters that he still sees "a path to victory." And it can be done — sort of.
Josh Putnam, a professor at the University of Georgia told CBS News that, "Sanders' path via the delegate math is possible but not all that probable," mainly because the remaining states have closed primaries and caucuses that haven't proven favorable to the senator. Also, there might not be enough uncommitted super delegates left for Sanders to sweep up.
Clinton's chief strategist Joel Benenson told CBS News that they expect to Sanders to bow out by the end of April. "The truth is, after April 26, there just simply is not enough real estate left for Senator Sanders to close the commanding lead that we've built," he said. Things are going to get very heated, very quickly.
Sanders' team is promising to not drop out until they get to the convention, but some (especially Clinton's campaign) would prefer he call it — and soon. CNN political analyst David Axelrod said on Tuesday that it might be time for Sanders to start asking himself some tough questions. "At what point do you say I'm going to keep running but I don't want to damage the nominee's chance?" he said.
Sanders isn't tapping out anytime soon. If it's possible to win in upcoming states, his legions of supporters seem to be willing to wait out that chance with him. Basically, it's not over until that gavel comes down at the convention in Philadelphia in July, despite any potential losses.