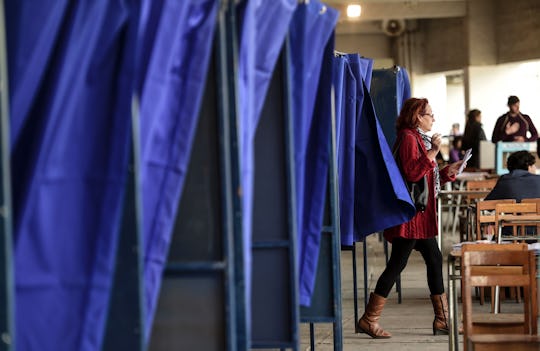 MARTIN BERNETTI/AFP/Getty Images
Which States' Election Results Will Come In First? It's A Tense Race This Year
Election Day has finally arrived, and the end to the oh-so-long presidential election race is here. You may be one of the many voters across the country making plans for how you'll spend your time following the crucial election results on Tuesday night. Perhaps you'll go to a neighborhood bar, an election night house party hosted by one of your friends, or maybe you've planned a night at home on your couch with your eyes glued to your TV or computer. Whatever you decide, you'll want to prepare for the suspenseful night. And in order to know what to look out for on election night, you'll need to know which states' election results will come in first.
As The New York Times reported, the closing time for polls varies across states. Starting at 6 p.m. ET, polls will close mostly throughout Indiana, and half of Kentucky. Then, by 7 p.m. ET, the rest of the polls in Kentucky and Indiana will close; Polls in Georgia, New Hampshire, South Carolina, Vermont, and, Virginia will also close at that time, and most of the polls in Florida will shutter as well.
As The Times projects, by 8 p.m. ET, when a number more states and cities will close their respective polls, there will be enough electoral votes to make up about half of the total electoral votes, which is 538. Hillary Clinton and Donald Trump are each fighting to win 270 electoral votes, the majority.
But as past election nights have taught us, election results from each state can come in at all different times. The last polls in Alaska may close at 1 a.m. ET on Wednesday, but remember in 2012 when Florida didn't officially finish the vote count until four days after the election (President Obama had already clinched the re-election regardless)?
Florida, a battleground state, notoriously has late election results, and it continues to be a crucial state in this year's presidential election. But interestingly, there has been a significant increase in early voting in Florida this year, which could possibly affect when the results will come in. According to calculations by USA Today, 6.2 million voters in Florida had already cast their votes as of Sunday. This figure was also reported by The Miami Herald. So here's hoping Florida won't keep the country in suspense for too long.
As The Wall Street Journal, reports, results and early projections will start coming in from some eastern states, like the battleground state of Virginia, given the time difference compared to the West. Of course, it all depends on whether or not the results are too close to call. Georgia's polls, for example, close early at 7 p.m., but as Time reported, Clinton and Trump are in a tight race in the traditionally red state – so this, too, could affect the official results.
Tracking the poll closing times for election results and projections across the country is probably a good place to start. Remember, in the end, the Electoral College is the name of the game. But for now, having a bottle of champagne handy regardless is probably not a bad idea.