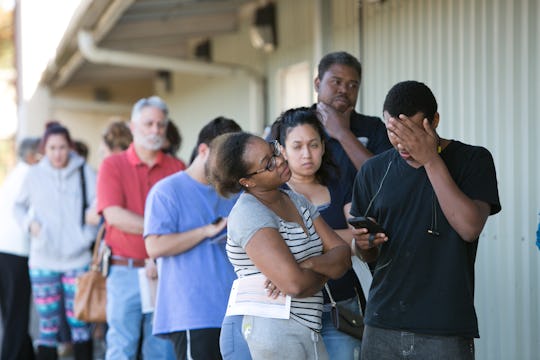 Jessica McGowan/Getty Images News/Getty Images
Which States Have Reported Voting Issues? Election Day Hasn't Been Smooth Sailing For All
It will come as no surprise, to many, to hear that Election Day 2016 wasn't without a few trials and tribulations. Given the tumultuous and often hard-to-believe presidential campaign, few voters or potential voters would have considered themselves optimistic about arguably the most important voting day in modern United State's history. However, the question, "Which states have reported voting issues?" seemed to be an often regurgitated inquiry, given the number of states that publicly announced long delays and voting equipment failures.
Unfortunately for the entire nation, and arguably the democratic process at large, the states to report voting issues are considered "key battleground states," like Florida, Pennsylvania and Virginia. According to USA Today, numerous "election watchdogs" reported, "hours-long lines, sporadic equipment failures and confusing about polling places." Coupled with Republican presidential nominee Donald Trump's numerous — not to mention unfounded — allegations of voter fraud, these reported issues no doubt made what should (arguably) be a national holiday, a more stressful situation for voters. Of course, voter intimidation has also been reported at numerous polling sights across the country, adding to the stress and anxiety many voters are facing.
Earlier in the day, Trump's lawyers asked for an order to have the pertinent early vote ballots "co-mingled or interspersed" with other ballots in the state of Nevada. The request was denied by a Nevada judge.
Thankfully, according to USA Today, the problems many key voting sates are reporting are "involved election administration issues that have plagued the polls for decades, rather than incidents of voter fraud or intimidation fueled by Trump's warning of a 'rigged' election."
While numerous problems spanned at least three reported states, the most significant reported voting issue occurred in Durham, North Carolina. According to reports, electronic poll books were down. These poll books are used to check voter registration and, in their absence, forced voters to wait longer and use paper copies as viable back-ups. To rectify the situation, Durham County Board of Elections decided to keep polls open an additional 90 minutes.
However, whether the reported problems are age-old issues or difficulties fueled by political rhetoric, Wade Henderson, president of the Leadership Conference on Civil and Human Rights, said, "This election may be the most chaotic election … in the last 50 years." Clearly, that doesn't bode well for what is sure to to be a historic election, regardless of which presidential nominee ends up the next president of the United States of America.