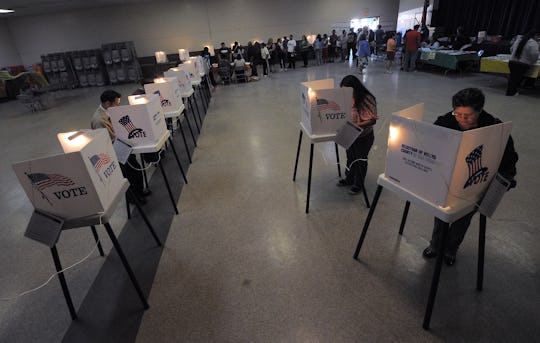 JOE KLAMAR/AFP/Getty Images
Which States Require A Voter ID? There Are 32 States Where You Can't Vote Without One
At a crucial moment in election season, it's important for everyone to be prepared before they cast their ballot. More than 30 states have some sort of voter ID laws in place. Figuring out whether you'll need a voter ID can be confusing, however, because in some states that have voter ID laws in place you absolutely cannot cast a vote without an ID, while in other states, you can vote through other means such as signing an affidavit confirming your identity or casting a provisional ballot. Which states require a voter ID?
According to the National Conference of State Legislatures, there are two types of voter ID laws: strict and non-strict.
In Georgia, Indiana, Kansas, Mississippi, Tennessee, Virginia, and Wisconsin, voters cannot vote without first presenting a photo ID. Without a photo ID, voters can vote on a provisional ballot. The provisional ballot is only counted if the voter shows election officials an ID, typically within three to six days. The provisional ballot will not be counted if the voter does not return.
In Arizona, North Dakota, and Ohio, voters must present some sort of identification, but it does not have to be a photo ID. Voters can use documents such as a bank statement that has their name and address on it as proof of identity. In Arizona and North Dakota, you can cast a provisional ballot, but in North Dakota, if you show up without an ID you can't vote at all.
In some states, a photo ID is requested but is not required. In Hawaii, Idaho, Louisiana, Michigan, South Dakota, and Texas, you can vote on a regular ballot but must sign an affidavit. In Alabama, Florida, and Rhode Island, voters without a photo ID can cast a provisional ballot.
In some states, ID is requested but is not required, and the ID presented does not have to have a photo. Alaska, Arkansas, Colorado, Connecticut, Delaware, Kentucky, Missouri, Montana, New Hampshire, Oklahoma, South Carolina, Utah, and Washington all have non-strict laws in effect. Additionally, elections in Colorado and Washington are held by mail, meaning voter ID laws won't impact most voters.
There are 18 states where voters do not need any sort of ID in order to cast a vote. Here is the list:
California, Illinois, Iowa, Maine, Maryland, Massachusetts, Minnesota, Nebraska, Nevada, New Jersey, New Mexico, New York, North Carolina, Oregon, Pennsylvania, Vermont, West Virginia, Wyoming, and Washington, D.C.
Voter ID laws are controversial, and some activists and organizations, such as the ACLU, are fighting against them because they believe such laws interfere with people's right to vote. However, some Republicans believe that voter ID laws are necessary to combat voter fraud.
Federal courts this past July struck down a strict addition to voter ID laws in Texas that would have narrowed down the list of acceptable forms of identification.
"Safeguarding the integrity of our elections is essential to preserving our democracy," Texas Attorney General Ken Paxton said in a statement regarding the decision, according to the Huffington Post.
But studies have shown that voter ID laws discourage people from trying to vote. Don't let not knowing about voter ID laws be what stops you from being able to cast a vote this election season — let your vote count!
Romper wants to do as much as possible to make sure your voice is heard this election season! Bustle and Romper are joining forces with other women's publications to ensure that women cast a vote. Bustle and Romper — along with brands such as Tinder and artists such as Ariana Grande — have vowed to register 100,000 women to vote between now and Nov. 8.
There are two ways you'll be seeing our pledge come to life. First, you can use this simple tool from Rock the Vote, which will be embedded all across Bustle and Romper content from now until November:
As part of our second step, editors from Bustle, Romper, and our partner publications will be on the ground to secure the votes of women across the country. Starting in early October, we will be trying to make the registration process as easy as possible for those who have not signed up yet to vote.