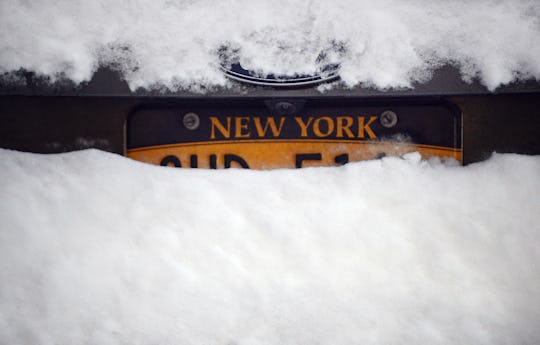 Astrid Riecken/Getty Images News/Getty Images
Here Are The States Winter Storm Stella Will Hit
The first day of spring is just over a week away, and yet much of the East Coast is about to get hammered with "crippling" snow in less than 24 hours. Which states will be hit by Winter Storm Stella, The Weather Channel's name for this brutal nor'easter? This is one monster storm, and Winter Storm Stella is predicted to pack quite the punch on Tuesday across much of the East Coast in the mid-Atlantic and New England states. Translation: Get thee to a grocery store, pronto.
If you're in the Midwest, chances are Winter Storm Stella is already knocking on your door — or knocking out power. This huge winter storm has the potential to be a weather "bomb" in a process known as bombogenesis. No, it's not when Winter Storm Stella cranks up "Invisible Touch" when it comes on the radio. No, no: Bombogenesis is far worse — it's when a low pressure area rapidly intensifies, causing intensified effects from the storm. In Stella's case, its likely bombogenesis will result in significant snowfall. With Winter Storm Stella snowfall predictions already in the 1- to 2-foot range in some parts of the country, this storm has the potential to cause everything from travel delays to power outages.
Here are the states Winter Storm Stella has in her sights — and she's looking at as many as 98 million people under weather alerts, according to WCVB Boston.