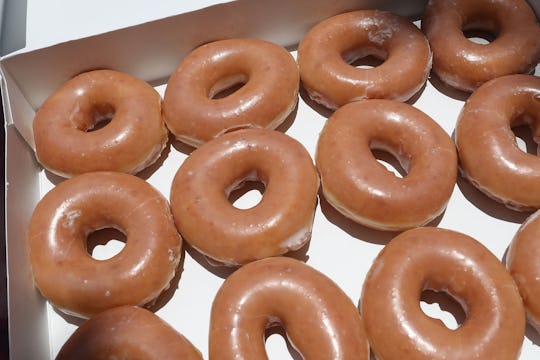 Joe Raedle/Getty Images News/Getty Images
Which Stores Are Giving Away Free Doughnuts On National Donut Day? It's The Best Day Ever
Sure, Memorial Day may have brought barbecues, sunshine and a day off of work, but when it comes to warm-weather holidays, there's another that is almost just as awesome: National Donut Day. This brilliant (and tasty) holiday has occurred on the first Friday in June since it began in 1938, according to Fortune, and has morphed into a day filled with a bevy of doughnut retailers handing out doughnuts to customers free of charge (what more can you ask for?). Which stores are giving away free donuts on National Donut Day? Allow me to provide you with an unofficial guide to the happiest, most sugar-laden day in all the land.
The degree of awesomeness that is National Donut Day will depend on where in the country you live. While some doughnut retailers are regional (hence, potentially limiting your ability to fall into a glorious sugar coma), others, like glazed doughnut behemoth Krispy Kreme, don't even care if you're in the United States — doughnut fans in a host of countries can head to their local Krispy Kreme for a sweet treat too. And some are going beyond just handing out free doughnuts, including things like raffles and giveaways for free doughnuts for an entire year (yes please omgggggg).
If you have the chance today, do your sweet tooth a massive favor and hit up the following spots for some doughnut deliciousness:
Krispy Kreme
It's probably a crime to not visit Krispy Kreme on National Donut Day, right? Today, the doughnut chain is giving away a free doughnut to all customers in the United States and Canada — and according to Fortune, customers in Australia, Bahrain, Kuwait, Puerto Rico, Qatar, and Turkey can also get in on the Krispy Kreme free doughnut action with no purchase necessary.
Dunkin' Donuts
You know Dunkin's getting in on the National Donut Day action, right? Hit up one of the country's favorite doughnut stores for a free doughnut with the purchase of any beverage (so not entirely free, but who buys a doughnut without a coffee to wash it down?).
Duck Donuts
On the East Coast? Duck Donuts is giving away one free sugar doughnut to every customer today (yes please!).
Entenmann's
The grocery store baked good brand is celebrating National Donut Day in more ways than one. According to TIME, free Entenmann's donuts will be handed out "in more than a dozen cities around the country, including Atlanta, Boston, Chicago, Cleveland, Denver, Louisville, New Haven, New York City, and San Diego." Not living anywhere near an in-person Entenmann's giveaway? You can enter the company's sweepstakes via their Facebook page for a chance to win free donuts for a year!
Randy's Donuts ‌
Doughnut lovers in Los Angeles should stop by Randy's Donuts today for some free donut holes and a raffle to celebrate National Donut Day. But get there quickly: The festivities end at noon.
Fractured Prune
Live near a Fractured Prune? Well, head there immediately, because they are giving away one free doughnut with every drink purchase, or a free 2-pack with a purchase of a dozen. Yummmm.
Is there really anything better than free doughnuts? No, I do not think there is.